Four Gate Whiskey Company Announces Release #11
 "Ruby Rye Springs"
7 Year Straight Rye Whiskey Finished in Ruby Port-Rum Casks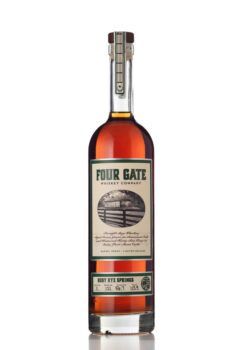 LOUISVILLE, KY, February 3rd, 2021- Four Gate Whiskey is releasing its 11th batch of whiskey, and once again presenting a popular 7-Year Old Indiana Straight Rye Whiskey, this time finished for forty two days in Ruby Port-Rum casks.
This is the third presentation of the same underlying Rye Whiskey, following River Kelvin Rye (Batch 7) and Split Stave™ by Kelvin (Batch 10).
This latest release showcases the citrus and spice characteristic of the sourced base spirit while adding a fruity sweetness from the Ruby Port-Rum Casks.
The secondary casks originally were originally used to mature ruby port, a fortified wine from Portugal in which the wine is removed from barrels and stored in tanks to prevent further aging, leaving the resulting product sweeter and brighter on the palate than other styles of port wine. The barrels found a second use with Virago Spirits in Richmond, VA where the barrels were used to age a blend of rums, imparting them with a lush molasses sweetness that pairs excellently with the bright red fruit of the ruby port.
"The moment we found these barrels, we knew what we were doing with them," Said Chief Blending Officer Bill Straub, "They were crying out for rye whiskey, and I really think this is one of the best products we've bottled."
"These barrels were off the charts," Said Chief Barrel Officer Bob D'Antoni, who sourced the barrels in collaboration with Kelvin Cooperage. "This rye is so good," he said, "I know you're going to love it."
1,444 bottles were produced at 113.4 proof at a suggested retail price of $185 each.
Tasting Notes:
 Nose:Fruit cake, tart gum drops, lemon and orange zest, and spicy rye.
Taste: A sweet tart red berry note greets the tip of the tongue with a spicy black pepper flowing down the center palate. Raspberries and blueberries surround the periphery with a hint of citrus rounding out the taste.
Finish: Medium-to-long, the black pepper and sweet red fruits dominate the start, with sweet molasses rounding out the viscous mouthfeel.
Straub and D'Antoni run the company as the Chief Blending Officer and Chief Barrel Officer, respectively. With their roots in Louisville, Straub has leveraged his knowledge of bourbon and the industry as founder and Editor-In-Chief of ModernThirst.com since 2014. As a successful local entrepreneur, D'Antoni has used his connections to establish relationships to get his hands on some terrific bourbon.
A local collaboration like this feeds into the Four Gate Whiskey Company philosophy: if you start with the best whiskey, and leverage some of the best-regarded experts in the field on the effects of barrels, you wind up with an amazing whiskey that both connoisseurs and collectors alike will appreciate.
There are 1,444 bottles of this release available in February in Kentucky, Tennessee, and Georgia, and online through Seelbachs.com and BourbonOutfitter.com at a MSRP of $185.
Four Gate Whiskey Company's products have been released since 2019 to critical acclaim, with batches 1, 2, 3, 4, 6, 7, and 8 receiving Whisky Advocate scores of 90 points or higher, and various well-regarded writers and online reviewers naming batches 1, 3, 4, 5, 6, and 10 amongst the top 10 American whiskeys of 2019 and 2020.
Four Gate Whiskey Company started in 2018 with the goal of releasing several unique batches of whiskey products each year. With its first product launch of 11-year-old Kentucky Straight Bourbon Whiskey finished in sherry-rum casks in April 2019, the team is excited to unveil the other small batch products with unique finishes in years to come. Learn more at fourgatewhiskey.com, like us on Facebook.com and follow us on Twitter @four_gate.
 Kelvin Cooperage, founded in Glasgow, Scotland in 1963 and now based in Louisville, KY, is a full-service family-owned cooperage supplying new and used barrels to wine, spirits, and beer producers around the world. For more information, visit Kelvincooperage.com
 Additional media images and information are available at fourgatewhiskey.com.