FOR IMMEDIATE RELEASE
Contact: Bill Straub
Email: [email protected]
Four Gate Whiskey Company Announces Release #12
"The Kelvin Collaboration III"
Kentucky Straight Bourbon Whiskey Finished in PX Sherry-Rum Casks
 LOUISVILLE, KY, April 5th, 2021- Four Gate Whiskey is releasing the third iteration of its award winning "The Kelvin Collaboration" batch. Following batches 1 and 6, each named amongst the best barrel-finished whiskeys of the year by various esteemed writers, bloggers, and vloggers, batch 12 is a blend of 9 and 12-year old Kentucky Straight Bourbon Whiskeys finished in PX Sherry-Rum casks.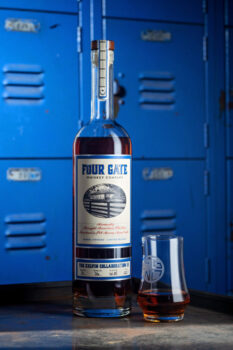 The 9-year Kentucky Straight Bourbon was distilled with a mashbill of 75% corn, 13% rye, and 12% malted barley. The 12-year Kentucky Straight Bourbon mashbill is 74% corn, 18% rye and 8% malted barley.
The secondary casks originally were originally used to mature PX Sherry, followed by dark rum by Virago Spirits of Richmond, VA before finding their way via Kelvin Cooperage to Four Gate Whiskey Company.
Each of the previous two releases of "The Kelvin Collaboration" have featured Kentucky Straight Bourbon Whiskey finished in additional fortified wine and rum casks. This release ups the ante with ultra-premium PX Sherry influence.
"These really might be some of the best finish barrels we've had," said Chief Barrel Officer Bob D'Antoni."
"The first release of this line was our first ever release," said Chief Blending Officer Bill Straub. "So The Kelvin Collaboration name is special to us. We couldn't be happier with the final product and I think it's the best Kelvin Collaboration we've done yet."
2,470 bottles were produced at 123.7 proof at a suggested retail price of $199 each.
Tasting Notes:
 Nose:  Vanilla, caramel, molasses, and sweet red fruit.
Taste: Rich and decadent, the PX Sherry is evident on the front palate followed by traditional vanilla and oak bourbon notes on the mid palate. Brown sugar sweetness coats the periphery.
Finish: Long, viscous, and mouth-coating. The molasses and red fruit linger throughout.
Straub and D'Antoni run the company as the Chief Blending Officer and Chief Barrel Officer, respectively. With their roots in Louisville, Straub has leveraged his knowledge of bourbon and the industry as founder and Editor-In-Chief of ModernThirst.com since 2014. As a successful local entrepreneur, D'Antoni has used his connections to establish relationships to get his hands on some terrific bourbon.
A local collaboration like this feeds into the Four Gate Whiskey Company philosophy: if you start with the best whiskey, and leverage some of the best-regarded experts in the field on the effects of barrels, you wind up with an amazing whiskey that both connoisseurs and collectors alike will appreciate.
The Kelvin Collaboration III is available in April in Kentucky, Tennessee, and Georgia, Indiana and online through Seelbachs.com, BourbonOutfitter.com, and Caskers.com at a MSRP of $199.
Four Gate Whiskey Company's products have been released since 2019 to critical acclaim, with every batch reviewed by Whisky Advocate earning score of 90 points or higher (90-94 = "Outstanding; a whisky of superior character and style"), and multiple well-regarded writers and online reviewers naming various batches amongst the top 10 American whiskeys of 2019 and 2020.
Four Gate Whiskey Company started in 2018 with the goal of releasing several unique batches of whiskey products each year. With its first product launch of 11-year-old Kentucky Straight Bourbon Whiskey finished in sherry-rum casks in April 2019, the team is excited to unveil the other small batch products with unique finishes in years to come. Learn more at fourgatewhiskey.com, like us on Facebook.com and follow us on Twitter @four_gate and Instagram @fourgatewhiskey.
Kelvin Cooperage, founded in Glasgow, Scotland in 1963 and now based in Louisville, KY, is a full-service family-owned cooperage supplying new and used barrels to wine, spirits, and beer producers around the world. For more information, visit Kelvincooperage.com
Additional media images and information are available at fourgatewhiskey.com.