FOR IMMEDIATE RELEASE
Contact: Bill Straub
Email: [email protected]
Four Gate Whiskey Company Announces Release #13
and Rolls Out Single Barrel Program including Private Select Casks
Batch 13
"River Kelvin Rye"
8 Year Old Straight Rye Whiskey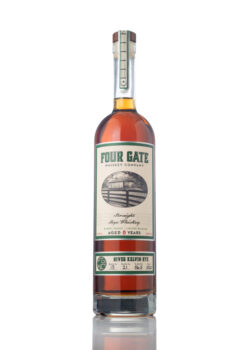 LOUISVILLE, KY, May 25th, 2021- Four Gate Whiskey Company has announced the second release of its River Kelvin Rye, a straight rye whiskey bottled at barrel proof, non-chill filtered. The first release of River Kelvin Rye was a 7-Year Indiana-Distilled Straight Rye blended by Bill Staub, the company's' Chief Blending Officer. This year's release is also blended by Straub and is a year older, clocking in at a mature 8 years old. It is bottled at 113 proof. 2,470 bottles were produced. The Mash Bill is 95% Rye and 5% Malted Barley.
"Like the first River Kelvin Rye release, we wanted to let our consumers taste the whiskey before it was finished because we have a number of finished versions of this whiskey coming out in the next 18 months," Said Straub.
One of those finished releases can be tasted in the company's brand new single barrel program, which includes a limited number of Private Select Casks, in which stores and groups can purchase an entire barrel of Four Gate Bourbon or Rye whiskey and have it finished in a brand new toasted barrel from Kelvin Cooperage for 30 additional days.
"The response was incredible," Said Chief Barrel Officer Bob D'Antoni. "We have single barrel bottles shipping out to all 4 of our distribution states plus all of our online partners."
The company made 20 barrels available for single barrel bottlings, 9 barrels of 8-year-old Straight Rye Whiskey, 6 barrels of 7-year-old Kentucky Straight Bourbon Whiskey, and 5 barrels of 6-year-old Kentucky Straight Bourbon Whiskey. The barrels have been bottled either as private select casks purchased by stores and consumers, or as "selected by the CBOs of Four Gate, referring to Chief Barrel Officer, D'Antoni, and Chief Blending Officer, Straub. All the single barrel bottles have custom labels with custom-cut and burned wooden neck tags. Mash Bills of the Private Select Cask Rye is 95% Rye and 5% Malted Barley. The two Kentucky Straight bourbons share a mash bill of 75% Corn, 21% Rye, and 4% Malted Barley.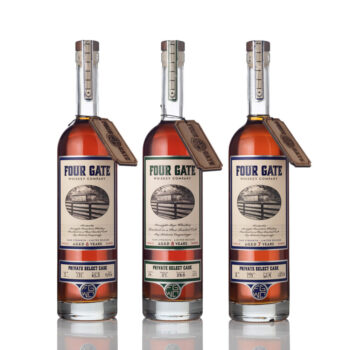 Straub and D'Antoni run the company as the Chief Blending Officer and Chief Barrel Officer, respectively. With their roots in Louisville, Straub has leveraged his knowledge of bourbon and the industry as founder and Editor-In-Chief of ModernThirst.com since 2014. As a successful local entrepreneur, D'Antoni has used his connections to establish relationships to get his hands on some terrific bourbon.
A local collaboration like this feeds into the Four Gate Whiskey Company philosophy: if you start with the best whiskey, and leverage some of the best-regarded experts in the field on the effects of barrels, you wind up with an amazing whiskey that both connoisseurs and collectors alike will appreciate.
River Kelvin Rye is available in June in Kentucky, Tennessee, and Georgia and online through Seelbachs.com, BourbonOutfitter.com, and Caskers.com at a MSRP of $185.
Private Select Casks from Four Gate Whiskey are available through select retailers and online sellers now, and as CBO picks in Kentucky, Tennessee, Indiana, and Georgia at a MSRP of $225.
Four Gate Whiskey Company's products have been released since 2019 to critical acclaim, with every batch reviewed by Whisky Advocate earning score of 90 points or higher (90-94 = "Outstanding; a whisky of superior character and style"), and multiple well-regarded writers and online reviewers naming various batches amongst the top 10 American whiskeys of 2019 and 2020.
Four Gate Whiskey Company started in 2018 with the goal of releasing several unique batches of whiskey products each year. With its first product launch of 11-year-old Kentucky Straight Bourbon Whiskey finished in sherry-rum casks in April 2019, the team is excited to unveil the other small batch products with unique finishes in years to come. Learn more at fourgatewhiskey.com, like us on Facebook.com and follow us on Twitter @four_gate and Instagram @fourgatewhiskey.
 Kelvin Cooperage, founded in Glasgow, Scotland in 1963 and now based in Louisville, KY, is a full-service family-owned cooperage supplying new and used barrels to wine, spirits, and beer producers around the world. For more information, visit Kelvincooperage.com
 Additional media images and information are available at fourgatewhiskey.com.