Jefferson's Presidential Select 25 Year Old Bourbon
I hesitate to recommend it give its exorbitant price, as I don't feel that the actual flavors justify a $200+ charge on my credit card.
[amazon_link asins='B00H143UXW,B016YPDI3A' template='ProductCarousel' store='modernthirstc-20′ marketplace='US' link_id='5fd76d64-8352-11e7-b4ba-4ba8c9ca927a']
What it is: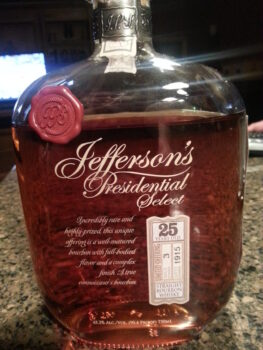 It's actually a little hard to definitively say what this bourbon actually is. The 25 year offering marks the second oldest of the Presidential Select bourbon line (they also make a 30 year old). But most notably, we can begin by discussing what it is not. This is not distilled by Jefferson Bourbon nor by its parent company, Castle Brands. Rather, the Presidential Select line is bottled from barrels distilled by various other companies and laid down for aging some time ago. Jefferson's buys the barrels and releases them under their label. This makes the identification of the mash and distiller very complicated.
For the younger offerings, many of the bourbons were distilled at the famed (and now defunct) Stitzel-Weller distillery in Louisville, notable for being the site of the Pappy Van Winkle production until being moved to Buffalo Trace's main facility in Frankfort, KY. This bourbon is not Pappy Van Winkle, nor is it similar. The 25 and 30 year offerings are from a different, undisclosed distillery. So let's be clear on that.
So we do not know where it was made or who made it. We do know from the bottle it is designated as batch #3, bottle #1915, and clocks in at a suspiciously Pappy-like 45.2% ABV (90.4 proof).
Appearance:
The bottle is a short, square bottle with minimal labeling. There's a wax medallion on the left corner with the "JPS" seal on it. It's an attractive package in its minimalist approach, thought it won't draw attention on a bar shelf for such a rare and expensive bourbon. The spirit itself is brown and somewhat pale for such an aged bourbon, likely the result of the lowered proof.
Aroma:
Sweet with hints of butter and peanuts.
Taste:
Lots of sweetness on the tip of the tongue giving way to some corn and slightly lower oak flavors than you would expect from a bourbon that has spent a quarter century in an oak barrel. There is a very subtle complexity on the back end, with some sugars and vanilla and rye notes rounding out the flavor. It is evident on the tongue that this is not a Stitzel-Weller product, as this is clearly not a wheated bourbon.
Finish:
Incredibly smooth, almost too smooth. The finish is short, but satisfying, with very little bite.
Synopsis:
My first taste was taken neat. The age was apparent from the start, but the overall flavors were much more subtle than I was expecting, though certainly not unpleasant. A second taste with ice proved disappointing. This bourbon isn't bold enough to stand up to ice, so it demands to be sipped neat.
I generally feel there is an aging limit to bourbon. 20 years seems to be the maximum amount of time in which a bourbon continues to improve before it begins to take on too much of the barrel's character. To combat this, many distillers add more water to these bourbons when bottling, bringing the proof down to a more manageable level and thinning out a little of the barrel harshness. Jefferson has done that here, and done it well. It is clear from the proof they've chosen that they aren't worried about the rumors of Pappy van Winkle association, though it's clear on the taste this isn't a Wheated product.
Keep it away from ice and water. I hesitate to recommend it give its exorbitant price, as I don't feel that the actual flavors justify a $200+ charge on my credit card. Were it in a more reasonable $100 range (is that even really reasonable for a bourbon?), it would be more sensible, as there just aren't many 25 year old bourbons floating around. Given its rarity, and given the buzz this bourbon has generated, and the fact that there are so limited options when trying older bourbons, I do recommend giving this a try if you can find it, if only for the educational aspect.
ModernThirst.com score: 84 out of 100.