Michter's Small Batch US*1
It's solid, and can be found at a good price. It's enjoyable, especially neat, but if you like it over ice, you might want to opt for another of Michter's offerings.
[amazon_link asins='B00H143UXW,B016YPDI3A' template='ProductCarousel' store='modernthirstc-20′ marketplace='US' link_id='5fd76d64-8352-11e7-b4ba-4ba8c9ca927a']
What it is: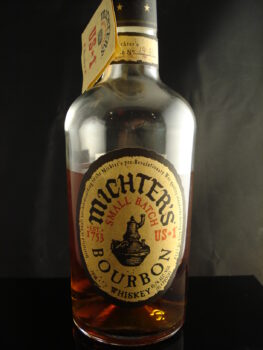 The Newmantown, PA whiskey scene has been around since before George Washington was kicking redcoat tail across the 13 colonies.   Legends claim Washington purchased cases of whiskey from the same area that originated Michter's to give troops at Valley Forge, and earned it the nickname "The Whiskey that Warmed the American Revolution."  Those are big shoes to fill.
It has undergone various changes in ownership since the early 1900s, when prohibition forced it, and most other distillers, to close its doors.  The Michter's name was born in the 1950s at the famed (and now defunct) Bomberger's Distillery, closing a few decades later.  But the current iteration began in the 1990s when Chatham Imports purchased the dormant Michter's trademark and moved the brand to Kentucky where it could begin creating top notch whiskeys in the heart of bourbon country.  And how has the new ownership filled those revolutionary shoes? Remarkably well.  In fact, it's hard to imagine more.  They were named the 2012 Distiller of the Year by Wine Enthusiast.  In December of 2013, they officially joined the Kentucky Distiller's Association and became part of the Kentucky Bourbon Trail. Interestingly, they aren't even distillers…yet.  So while that award is nice and all, it really is a bit misleading, no?
Michter's is in the process of finishing a new full scale facility in southern Louisville, and is planning a downtown Louisville micro-distillery to open in either 2014 or 2015, which could provide a fascinating addition to both the Kentucky Bourbon Trail and the Urban Bourbon Trail.  The Micro-Distillery has been plagued by problems with the historic building in which the distillery will be housed, but plans to proceed continue.
Their Small Batch US*1 marks their entry level bourbon, if any premium bourbon can be considered entry-level, I suppose.  I purchased this for $32.99 at a local liquor store, and it checks in at 91.4 proof.
Appearance: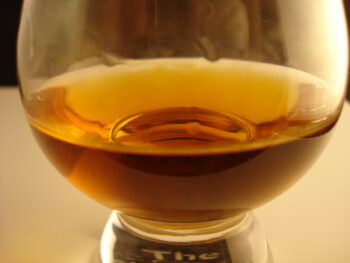 It's very attractively packaged in a clear, wide-shouldered bottle with a cream label.   The bourbon is an amber color, tending to the lighter side, without cloudiness.
Aroma:
There are clearly some dried fruit hints on the nose, peach and apricot, with a hint of cinnamon.  The rye is evident.
Taste:
The first taste is sweet, with the corn very evident from the start.  The front of the tongue definitely tastes the sugars and baked goods, while the middle of the tongue gets a hint of peppery spice that dies quickly. It is smooth, never really developing the bite I expected from an over-90 proof bourbon.  The profile reminded me of Brown-Forman's products, which may give a clue as to where this was distilled, as Michter's has to be sourcing their bourbon from someplace else while they get their own distillery up and running.
Finish: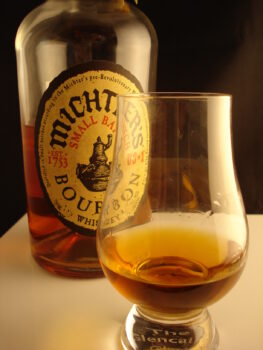 This bourbon has a relatively short, dry finish with no unpleasant after tastes, and almost begs for a second taste.  Some lingering graham cracker and honey coalesce towards the end of the finish.
Synopsis:
Drank neat, there are some very attractive qualities to this bourbon.  For under $40, you should probably give it a try.  When I tried it over ice, however, it quickly faded.  It just couldn't stand up to the addition of water in the least.  So it tends to be more subtle in flavor, less bold than its older cousins in the Michter's line.  I will neither sell this bourbon short, nor over-tout it.  It's solid, and can be found at a good price.  It's enjoyable, especially neat, but if you like it over ice, you might want to opt for another of Michter's offerings.  As the entry level for Michter's premium bourbon line, this is a great start.  The 10 year versions and single barrel versions are even better, but extremely hard to find at the moment.  Michter's has stepped into big shoes, and set a very high bar for themselves.  Thus far, they have more than met expectations, and that only adds to the excitement for this brand going forward.
ModernThirst.com Score: 87 out of 100 points