This post marks the fifth installment of the Budget Bourbon Battle Royale.  (Follow this link for other rounds.)  If you're not familiar with this series, we're reviewing bottles that can be had for $20 or less in most areas.
In Round 1, Very Old Barton Bottled-in-Bond took on Old Grand Dad Bottled-in-Bond and laid down a heavy dose of smack on the challenger from Jim Beam Brands, with the VOB scoring a solid 83 points.   In Round 2, Old Fitzgerald Bottled-in-Bond battled VOB100 to a near standstill, winning on a technical tie breaker.  In Round 3, we took a departure from the Bottled-in-bond bourbons and see a lower proof challenger in Old Crow.  Still, the wheater from heaven Hill plowed on, retaining its crown as the top budget bourbon thus far.  In round 4 Old Fitz stood tall, swatting away a weak challenge from Old Taylor.  Round 5 poses a bigger challenge, as Old Fitz BiB faces off against the second-best selling bourbon in the world: Evan Williams.
Round 5: Old Fitzgerald Bottled-in-Bond vs. Evan Williams (Black Label)
To paraphrase the great Michael Buffer:
For the thousands on twitter and the millions of readers around the world, ladies and gentlemen, LLLET'S GET READY TO RUUUUMMMBBBLLLLLLLLEEEE!
 The Challenger: Evan Williams (Black Label)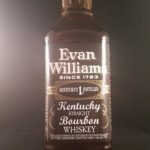 Bourbon drinkers know what they like, and bourbon drinkers like Evan Williams.  This standard Black Label offering is second only to standard Jim Beam in global sales.  Previously, Evan Williams carried a 7 year age statement.  Recently, to meet growing demand, that age statement has been dropped.  I understand this bourbon is aged between 5 and 7 years now, and it is offered at 86 proof.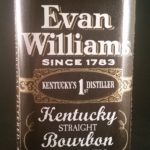 Appearance:

Medium Amber.

Nose:

Caramel, vanilla, Leather, Oak.

Taste:

Caramel hits the tip of the tongue, and it develops into further flavors of toffee, vanilla bean, and caramel corn throughout.  Oak makes an appearance n the back of the tongue, with only a light alcohol burn.

Finish:

Medium, somewhat dry, but the caramel lingers with tannins from the barrel showing through at the end along with the slightest hint of peppermint.

Score:

82/100.
The Reigning King of the Ring: Old Fitzgerald Bottled-in-Bond  (recap from previous rounds)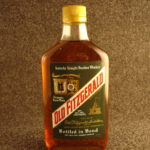 Old Fitzgerald is another venerable bourbon label.  It is currently produced by Heaven Hill at the new Bernheim facility in Louisville.  It's a Wheated Bourbon, and shares its mash with Larceny and Old Fitzgerald 12 year.  It can be found in 90 proof, or Bottled-in-Bond at 100 Proof.  This review covers the Bottled-in-Bond version.
Appearance:

Deep gold.

Nose:

Bakery goods (wedding cake) and corn sweetness.

Taste:

Wheat tingle on the tip of the tongue, more white cake, mint, wheat, and maple syrup on the back with cinnamon showing its head on the end.

Finish:

Medium finish with the sweetness and wheat tingle remaining through the end.

Score:

83/100.
Synopsis:
This was a lot closer than I expected.  Generally, I don't find myself enjoying many of these budget bourbons, but Evan Williams is different.  It's the second-best selling bourbon in the world for a reason, it seems.  It's sweet, smooth, and packed with flavor- especially so for an 86 proof whiskey.  However, I felt like the finish left me wanting just a bit more.  It lacked punch and bite.  While that's likely due to the lower proof, it still can't be brushed aside.  I am looking forward to seeing the White Label (100 Proof Bottled-in-Bond) version of this bourbon in the Budget Bourbon Battle Royale very soon.  Until then, Old Fitz BiB narrowly retains its ranking at the top of the Battle Royale standings.  But don't sleep on black label Evan Williams.  If lower proof is your thing, give it a shot.
Budget Bourbon Battle Royale Current Standings:
Old Fitzgerald Bottled-in-Bond          83
Very Old Barton Bottled-in-Bond       83
Evan Williams (Black Label)             82
Old Grand Dad Bottled-in-Bond         76
Old Crow                                        72
Old Taylor                                       69
---
The ModernThirst.com scoring system is a standard 100 point system based on 4 categories, taken in order.

Appearance: 15 points
Nose: 25 Points
Palate/Taste: 35 Points
Finish: 25 points

95+        Epic
90-94     Excellent, Good representative of its style
85-89     Solid sipper
80-84     Drinkable, but potentially flawed.
75-79     Low quality, flawed, use as a mixer only
<75        Rot Gut, avoid