Old taylor
There isn't a lot to like with this bourbon.
This truncated review was originally published as part of our Budget Bourbon Battle Royale.  The original post can be found here.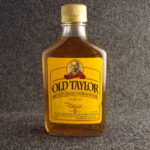 There was a time that Old Taylor was amongst the best bourbon in the world, and its distillery was the showpiece for the entire bourbon industry.  That time is long past.  Today, the Old Taylor brand is owned by Buffalo Trace after it was recently (2009) purchased from Jim Beam.  The bottle I am sampling was distilled in the Beam era, and follows the standard Jim Beam recipe.  It is 6 years old, and 80 Proof.
Nose:

Leather. Very little wood or oak, but some bitter tannins.

Taste:

Corn, more corn, and then follows up with corn.  There isn't much depth to this.  Some new wood flavors hint on the back of the tongue.

Finish:

Short finish, with lots of acrid wood and alcohol bite for an 80 proof bourbon.  Bitter.
Score: 69/100.
Synopsis:
There isn't a lot to like with this bourbon aside from the price tag.  It lacks depth and delicacy.  The best compliment I can give it is that…well…it's bourbon.  Avoid.
---
The ModernThirst.com scoring system is a standard 100 point system based on 4 categories, taken in order.

Appearance: 15 points
Nose: 25 Points
Palate/Taste: 35 Points
Finish: 25 points

95+        Epic
90-94     Excellent, Good representative of its style
85-89     Solid sipper
80-84     Drinkable, but potentially flawed.
75-79     Low quality, flawed, use as a mixer only
<75        Rot Gut, avoid