This post marks the fourth installment of the Budget Bourbon Battle Royale.  (Follow the rest of the Battle Royale action here.)  If you're not familiar with this series, we're reviewing bottles that can be had for $20 or less in most areas.  In Round 1, Very Old Barton Bottled-in-Bond took on Old Grand Dad Bottled-in-Bond and laid down a heavy dose of smack on the challenger from Jim Beam Brands, with the VOB scoring a solid 83 points.   In Round 2, Old Fitzgerald Bottled-in-Bond battled VOB100 to a near standstill, winning on a technical tie breaker.  In Round 3, we took a departure from the Bottled-in-Bond bourbons and see a lower proof challenger in Old Crow.  Still, the wheater from Heaven Hill plowed on, retaining its crown as the top budget bourbon thus far.  Now, in Round 4, we face yet another venerable bourbon name in Old Taylor.
Round 4: Old Fitzgerald Bottled-in-Bond vs. Old Taylor
To paraphrase the great Michael Buffer:
For the thousands on twitter and the millions of readers around the world, ladies and gentlemen, LLLET'S GET READY TO RUUUUMMMBBBLLLLLLLLEEEE!
 The Next Challenger: Old Taylor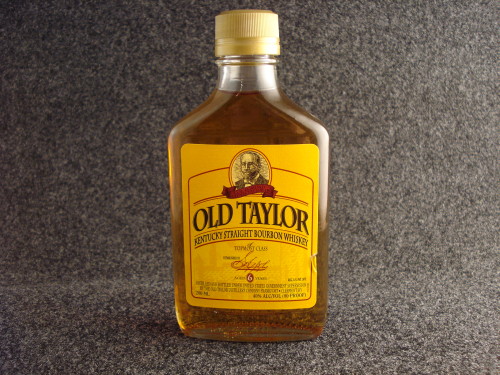 There was a time that Old Taylor was amongst the best bourbon in the world, and its distillery was the showpiece for the entire bourbon industry.  That time is long past.  Today, the Old Taylor brand is owned by Buffalo Trace after it was recently (2009) purchased from Jim Beam.   It is 6 years old, and 80 Proof.
Appearance:

Very pale.

Nose:

Leather. Very little wood or oak, but some bitter tannins.

Taste:

Corn, more corn, and then follows up with corn.  There isn't much depth to this.  Some new wood flavors hint on the back of the tongue.

Finish:

Short finish, with lots of acrid wood and alcohol bite for an 80 proof bourbon.  Bitter.

Score:

69/100.  Avoid.
The Reigning King of the Ring: Old Fitzgerald Bottled-in-Bond  (recap)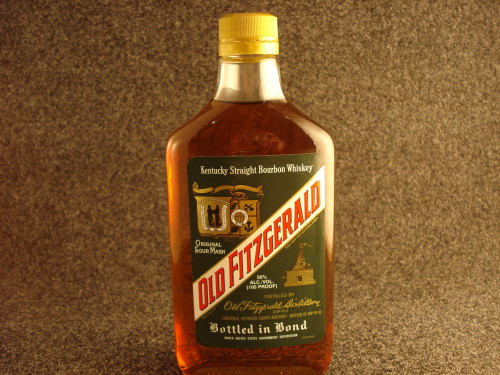 Old Fitzgerald is another venerable bourbon label.  It is currently produced by Heaven Hill at the new Bernheim facility in Louisville.  It's a Wheated Bourbon, and shares its mash with Larceny and Old Fitzgerald 12 year.  It can be found in 90 proof, or Bottled-in-Bond at 100 Proof.  This review covers the Bottled-in-Bond version.
Appearance:

Deep gold.

Nose:

Bakery goods (wedding cake) and corn sweetness.

Taste:

Wheat tingle on the tip of the tongue, more white cake, mint, wheat, and maple syrup on the back with cinnamon showing its head on the end.

Finish:

Medium finish with the sweetness and wheat tingle remaining through the end.

Score:

83/100. Recommended.
Synopsis:
I expected it to be much harder to pick a winner in these head-to-head matchups.  To a large degree, I expected most $12-$18 bourbons to be similarly young and unappetizing.  Aside from the dead-heat in round 2, that hasn't been the case.  Old Fitzgerald Bottled-in-bond is just a vastly superior bourbon compared to Old Taylor.  There isn't much competition here.  Old Taylor is rightfully near the bottom of our bottom-shelf rankings.
Budget Bourbon Battle Royale Current Standings:
Old Fitzgerald Bottled-in-Bond          83
Very Old Barton Bottled-in-Bond       83
Old Grand Dad Bottled-in-Bond         76
Old Crow                                        72
Old Taylor                                       69
---
The ModernThirst.com scoring system is a standard 100 point system based on 4 categories, taken in order.

Appearance: 15 points
Nose: 25 Points
Palate/Taste: 35 Points
Finish: 25 points

95+        Epic
90-94     Excellent, Good representative of its style
85-89     Solid sipper
80-84     Drinkable, but potentially flawed.
75-79     Low quality, flawed, use as a mixer only
<75        Rot Gut, avoid