It's time for round 9 of the Budget Bourbon Battle Royale!  (Follow this link for previous rounds.)  If you're not familiar with this series, we're reviewing bottles that can be had for $20 or less in most areas. Thus far, Old Fitzgerald has fended off several challengers and remains our reigning king of the budget ring.  But it's about to get nasty.  The long-awaited match  up between fellow Heaven Hill Bottled-in-Bond bourbon, Evan Williams White label, and our reigning champion, Old Fitzgerald Bottled-in-Bond is here.
 Round 6: Old Fitzgerald Bottled-in-Bond vs. Evan Williams White Label
To quote the great Michael Buffer:
For the thousands on twitter and the millions of readers around the world, ladies and gentlemen, LLLET'S GET READY TO RUUUUMMMBBBLLLLLLLLEEEE!
 The Challenger: Evan Williams White Label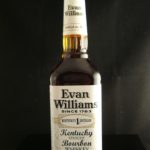 If you will remember, Evan  Williams Black Label  took on the reigning champ a couple of rounds ago, and gave Old Fitz all it could handle, being edged out by a single point.  Well Even Williams isn't done yet, and it's back for more.  This time, it sent its white Label Bottled-in-Bond offering to the ring to do battle.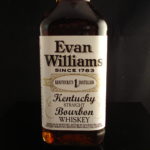 The White Label is aged 4 years, and clocks in at 100 proof, as bottled-in-Bond bourbons do.
Appearance: Deep amber.
Nose: Corn, Bakery Goods, Vanilla
Taste: There are some early fruits, including apricot and banana, but they give way to traditional smoother bourbon flavors of vanilla, caramel, maple syrup, and oak.
Finish: Surprisingly long and smooth, with black pepper and cloves.
Score: 86/100.
The Reigning King of the Ring: Old Fitzgerald Bottled-in-Bond  (recap from previous rounds)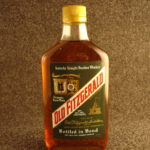 Old Fitzgerald is another venerable bourbon label.  It is currently produced by Heaven Hill at the new Bernheim facility in Louisville.  It's a Wheated Bourbon, and shares its mash with Larceny and Old Fitzgerald 12 year.  It can be found in 90 proof, or Bottled-in-Bond at 100 Proof.  This review covers the Bottled-in-Bond version.
Appearance: Deep gold.
Nose: Bakery goods (wedding cake) and corn sweetness.
Taste: Wheat tingle on the tip of the tongue, more white cake, mint, wheat, and maple syrup on the back with cinnamon showing its head on the end.
Finish: Medium finish with the sweetness and wheat tingle remaining through the end.
Score: 83/100. Recommended.
Synopsis:
The king is dead!  Long live the king!  Finally, Old Fitzgerald Bottled-in-Bond has been unseated.  It should be noted that Old Fitz was actually beaten by a fellow bottled-in-bond bourbon from the same distiller.  But this was no fluke.  Evan Williams White Label clearly blurs the line between a budget bourbon and a premium.  In fact, I'd wager that most palates would have a hard time declaring this a budget bourbon at all. It is smooth, flavorful, and worthy of a sip.  At under $15, it may be among the best values in bourbon today.
Budget Bourbon Battle Royale Current Standings:
Evan Williams White Label (Bottled-in-Bond)  86
Old Fitzgerald Bottled-in-Bond          83
Very Old Barton Bottled-in-Bond       83
Evan Williams (Black Label)             82
Ancient Age 90                             79
Old Grand Dad Bottled-in-Bond         76
Ancient Age 80                                 75
McAffee's Benchmark Old No. 8       75
Old Crow                                        72
Old Taylor                                       69
---
The ModernThirst.com scoring system is a standard 100 point system based on 4 categories, taken in order.

Appearance: 15 points
Nose: 25 Points
Palate/Taste: 35 Points
Finish: 25 points

95+        Epic
90-94     Excellent, Good representative of its style
85-89     Solid sipper
80-84     Drinkable, but potentially flawed.
75-79     Low quality, flawed, use as a mixer only
<75        Rot Gut, avoid