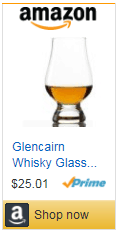 Sometimes in the world of Bourbon, it can be difficult to keep track of all the names and labels produced by various distillers. The simple truth is that there are a few major distillers producing scores of major bourbon labels. To add the confusion, the distillers often use the exact same recipe (mash bill) for multiple different labels, with the differentiation coming in the aging times, locations, and barrel selection, along with the proof in which the distillate goes into the barrels or at which it is later bottled. Seem confusing?
Here's a great example: Heaven Hill Distilleries produces both the Heaven Hill line of bourbons and Evan Williams. The recipe for both is identical. However, Heaven Hill stores them in different places, using different barrels, for different amounts of time.  They also can bottle the different versions at varying proofs.  All of this serves to create unique flavors between the multiple iterations of Evan Williams and Heaven Hill.
Two of the prime examples are in some of their more popular Bottled-in-bond offerings; namely the Evan Williams White Label and the Heaven Hill 6 Year Old Bottled-in-Bond.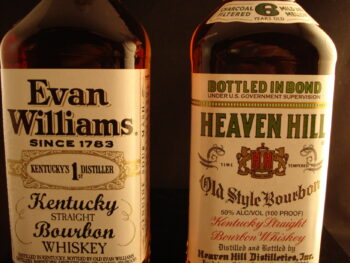 I had originally intended the Heaven Hill BiB bourbon to be used in the Budget Bourbon Battle Royale, but I decided that due to its limited geographic distribution area, it is better served in a more limited comparison review with its brethren Bottled-in-Bond bourbon.
What is Bottled-in-Bond, you might ask? It's pretty simple. It means that the liquor (in this case: bourbon) adheres to strict federal requirements of age and authenticity. All the bourbon in the bottle must be the product of a single distilling season (January to December), from the same distillery. It must be aged in a federally bonded warehouse for at least four years. It must be 50% ABV (100 proof). And last, the label must indicate in which facility it was distilled and if not the same location, where it was bottled.
I recently reviewed the Evan Williams White Label in the Budget Bourbon Battle Royale. However, I'll provide a more in-depth review of it here, along with a comparison to the Heaven Hill. It should be noted that Evan Williams is the second highest selling bourbon brand in the world behind Jim Beam.  Impressive.
Evan Williams White Label
Stats: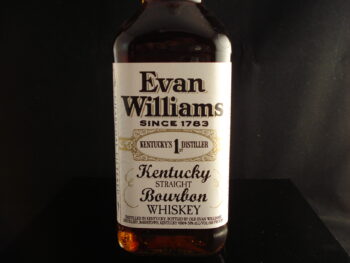 50% ABV (100 Proof)
Aged 4-6 Years (No age statement on bottle)
Distilled at Heave Hill Bernheim Distillery, Louisville, KY. Bottled at Heaven Hill Distilleries, Bardstown, KY.
Price Paid: $12.99
Packaging:
A tall, square, screw-top bottle with a printed white label. It is cheaply packaged, and that is reflected in the price.
Appearance:
This bourbon pours into a Glencairn glass a deep amber. Very attractive and inviting.
Nose:
Right off the bat, the nose is greeted by traditional heaven Hill scents of vanilla bean, baked goods, frosting, and sweet corn.
Taste:
On the tip of the tongue, the corn sweetness is prevalent with the immediate follow-up of apricot, ripe banana, and vanilla. On the middle of the tongue, the proof makes itself known slightly, with minimal burn, and follows with caramel and maple syrup. The oak is mild and pleasing on the back of the tongue.
Finish:
This bourbon is very smooth, and has little alcohol bite for a 100 proof whiskey. The dominant flavors on the finish are vanilla, corn, and oak, with cinnamon, black pepper, and cloves developing at the tail end.
Score:
86 out of 100 points
Heaven Hill Bottled-in-Bond 6 Year
Stats: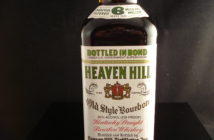 50% ABV (100 Proof)
Aged 6 Years
Distilled at Heave Hill Bernheim Distillery, Louisville, KY. Bottled at Heaven Hill Distilleries, Bardstown, KY.
Price Paid: $11.99
Packaging:
Nearly identical to the Evan Williams. It's a square, tall bottle with white label and green print. It has a screw top, and the neck label proudly calls it "The Best of the Great Kentucky Bourbons." A bold statement.
Appearance:
This bourbon pours into a Glencairn glass a dark amber, trending toward brown.
Nose:
The nose is first hit with corn and sweetness, but it quickly catches much heavier oak and wood.
Taste:
Smooth and sweet, the first taste is corn. But this bourbon deviates quickly, bringing up very powerful flavors of oak and aged wood on the middle of the tongue, along with a touch of alcohol bite on the back of the tongue.
Finish:
A very long finish, the flavors seems to coalesce around the age of the bourbon. It's impressive, as 6 years isn't' a particularly old bourbon. But this tastes like something much older. Like its fellow Heaven Hill cousin, Elijah Craig, this is a bourbon for those who like oak and wood, as that dominates the finish, along with a buttery caramel undertone and a medium alcohol burn.
Score:
86 out of 100 points
Synopsis:
Ultimately, these are two similar bourbons. It's hard to pick one over the other, as they are similar enough that there isn't a discernable difference in quality, and the flavors are common between them. Really, this comes down to a matter of personal preference. Do you like traditional caramel and vanilla flavors? In that case, you should grab a bottle of the Evan Williams. Do you like age and oak? The Heaven Hill is the clear choice in that instance.
In both cases, the bourbon itself is an absolute steal at under $15. As I have mentioned before on the Evan Williams, these most definitely blur the line between bottom shelf bourbons and premiums. In a nicer bottle with prettier labels, they could easily claim upwards of $25, maybe more. As a value pour, these may be unparalleled (Stay tuned to the Budget Bourbon Battle Royale to find out). As a sipper, they are smooth and amazingly enjoyable. Heaven Hill seems to have found the formula amidst the recent boom in bourbon popularity and prices to continue to deliver consistent, quality pours at a very low price point.
---
The ModernThirst.com scoring system is a standard 100 point system based on 4 categories, taken in order.

Appearance: 15 points
Nose: 25 Points
Palate/Taste: 35 Points
Finish: 25 points

95+        Epic
90-94     Excellent, Good representative of its style
85-89     Solid sipper
80-84     Drinkable, but potentially flawed.
75-79     Low quality, flawed, use as a mixer only
<75        Rot Gut, avoid