[amazon_link asins='B00H143UXW,B06Y1VGMH2′ template='MT-product-carousel' store='modernthirstc-20′ marketplace='US' link_id='89cd9de4-ff80-11e7-ad0b-b3d612b3a656′]
We've had a lot of requests lately to re-post the Bourbon Flavor Wheel for readers who want to conduct their own tastings.
I created the wheel back in April for my "Tasting Bourbon 101" post, and I suppose it has been a useful tool for some of our readers.  So in order to help facilitate your own tastings, I've created a separate file of the flavor wheel along with a tasting sheet you can print off and use at home when tasting and scoring your own bourbons!
The flavor wheel  is just a guide with some very general flavors.  You may find none of these in some bourbons, or you may find these and lots more that are not included.  Feel free to use this in your own tastings.  Just taste your bourbon, and start in the middle of the wheel and work your way to the outside, identifying flavors along the way.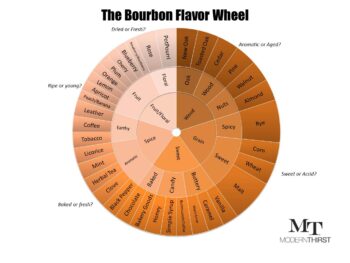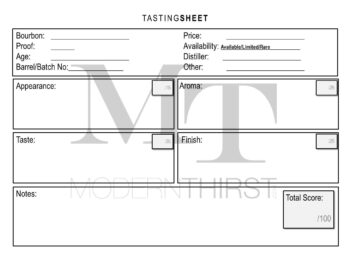 PDF:  Flavor Wheel and Tasting Sheet
EDIT:  The Flavor Wheel has been reformatted if you prefer a different look!