Smooth Ambler Old Scout Single Barrel Cask Strength Rye Whiskey
The juxtaposition of sweetness contrasted with the rye spice and the alcohol heat makes this an outstanding sip.
9/19/2014 UPDATE:  A few notes on the 8 year version have been added below.
This review is the last in our series of 4 Smooth Ambler Old Scout product reviews. As we come across further Smooth Ambler products, we'll continue to add content.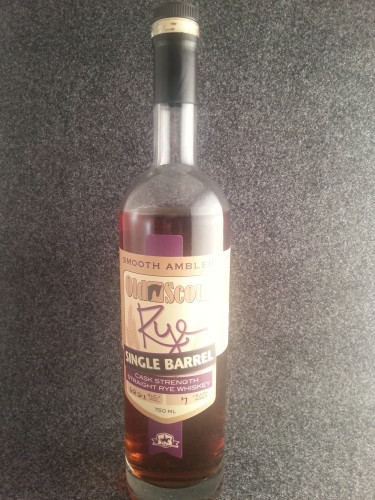 Stats:
Producer: Smooth Ambler; Maxwelton, WV
Distiller: MGP; Lawrenceburg, IN
62.21% ABV (124.42 Proof)
Age: 7 years
Price Paid: $58.99
Mash Bill: 95% Rye, 5% Barley Malt
Availability: Rare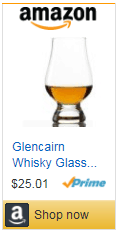 What it is:
From our previous Old Scout reviews:
In an age when it seems whiskey producers do everything they can to obscure the origins of their distillate, and create false and misleading narratives about the source of their whiskey, Smooth Ambler is a refreshing change of pace. While they are distilling many of their own spirits, they also do source whiskey from other producers, namely MGP in Indiana. They are very transparent on the process, which we here at Modern Thirst appreciate greatly. To differentiate between their in-house products and the sourced products, Smooth Ambler labels all the sourced products as "Old Scout." Thus, this is a sourced whiskey from MGP in Indiana.
You may remember a very similar story about the 4 year Willett Rye Whiskey and the Bulleit Rye. They share the same mash bill and the same distiller (MGP), though they vary in proof and age.
This particular bottling is a single barrel expression of rye whiskey, barreled the way God intended: Cask Strength. This is a tongue blistering 62.21% ABV, or 124.42 proof.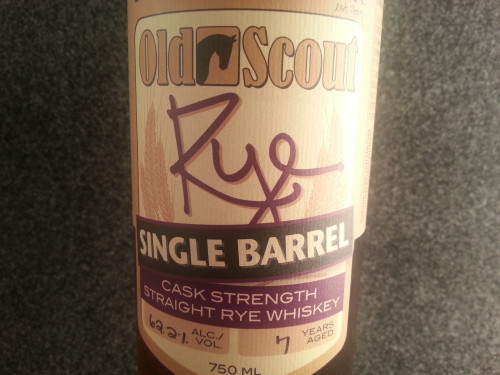 Packaging:
Standard tall, long-necked whiskey bottle, similar to other Old Scout offerings.
Appearance:
Deep amber and copper.
Aroma:
There is definite citrus on the nose, but a very strong aroma of sweet spice and carrot cake quickly rush in to envelope the senses.
Taste:
Citrus on the tip of the tongue, with strong peaches and apricots along with traditional lemon and orange zest. But a brown sugar bakery taste follows up quickly with notes of coffee cake, and icing, and nuts. There is plenty of spice on the tail end of this, and the proof is completely evident throughout.
Finish:
Medium to long, this whiskey continues with the carrot cake and breakfast pastry flavors well after the swallow. The heat from the alcohol dissipates, leaving vanilla and peaches on the tongue.
Synopsis:
Contrary to some common thought, there is an art to sourcing bourbon and whiskey. Anyone can order a few barrels and put it in bottles if they have enough time, money, and licenses. But choosing the right proof, age, etc for a bottling is clearly a skill, and it's one Smooth Ambler has mastered with this expression. This is a great whiskey, and cask strength is clearly the way it was meant to be enjoyed. The juxtaposition of sweetness contrasted with the rye spice and the alcohol heat makes this an outstanding sip.  Why more producers don't focus on high-proof or cask-strength offerings is beyond me.  Even if they have to charge more to make up for the lower volume, it's worth it to consumers.
So to close out our Smooth Ambler series for now (it's just hard to find other Smooth Ambler products at times), I'll mention how impressed I am with the lineup.  They're all good, solid whiskeys, with this particular bottling being a great one.  And perhaps just as importantly, they are honest in how they present their product to consumers.  They both distill and source different whiskeys and don't try to pass themselves off any other way.  There doesn't seem to be any crazy story of long lost family recipes, fictional distilling companies, or non-existent distilleries.  I wish more producers would follow suit, and it will make me a customer in the future.
ModernThirst.com score  (7 Year): 92 out of 100 Points.
UPDATE:
Thanks to Matt, I also had the opportunity to taste an 8 year version of the same Rye Whiskey.  This clocked in at 125 proof.  It was very similar to the 7 year version, so much so that it honestly doesn't warrant a completely separate review.  It felt just a tad lighter on the tongue, with the same carrot cake and coffee cake flavors, along with citrus.  The finish seemed a touch longer as well, with the same sensations.
ModernThirst.com score (8 Year): also 92 out of 100 Points.
---