Lost Prophet
Lost Prophet is the best of the Orphan Barrel releases to date. It does a much better job balancing the oak with the sweet, and provides an excellent nose and finish that make the experience worth while.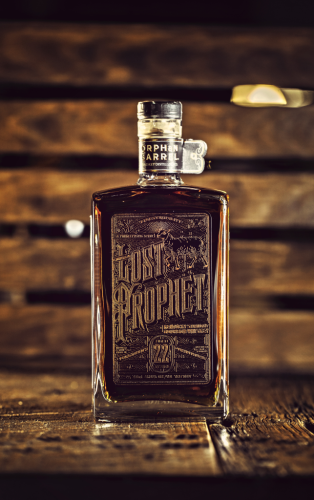 Quick Stats:
Producer: Orphan Barrel Distilling Co. (Diageo)
Distiller: George T. Stagg Distillery, Frankfort, KY (now Buffalo Trace)
Aging Location: Stitzel-Weller Distillery, Shively, KY
Age: 22 Years (Distilled in 1991)ABV: 40.05% ABV (90.1 Proof)
Product: Kentucky Straight Bourbon Whiskey
Mash Bill: 75-78% corn, 7-10% barley, 15% rye
Availability: Not Yet Released
Price: $120 MSRP
---
Disclaimer: A sample of Lost Prophet was provided to Modern Thirst by Diageo. 

We were not paid, nor did Diageo attempt to influence our review and opinions of this Whiskey.
---
What it is:
Lost Prophet is the latest release from Orphan Barrel Distilling, due to ship to distributors on 12/3, if memory serves.  Its origins are very different from the other Orphan Barrel releases.  This is a 22 year old bourbon, distilled in 1991 at the then-named George T. Stagg Distillery in Frankfort, KY.  For those keeping score, that's now called Buffalo Trace.  Don't let the folks in Frankfort hear me say that, they've already threatened to sue Diageo…for telling the truth about the origin of the whiskey.  Go figure.  Anyway, this mash bill is 75-78% corn, 7-10% barley, and 15% rye.  It clocks in at 90.1 proof (45.05% ABV).  That makes this Buffalo Trace Mash Bill #2, for those playing at home, similar to Ancient Age, Blanton's, etc.  Retail Price is expected to be $120.  Barterhouse, Old Blowhard, and Rhetoric were all distilled at the Old and New Bernheim facilities in Louisville using a much lower rye content mash bill.  So this stands out on the stat sheet alone.
Packaging:
The Orphan barrel Releases are packaged in heavy square bottles with natural corks.  The labels are prominent and on all four sides, including the neck. I've read complaints about the names, or fanciful stories on the labels, but pay them no mind.  These are very attractive retro-style bottles.  Lost Prophet is probably the most attractive label yet, though I would suggest that when Forged Oak hits the market, it may surpass it.
Appearance:
This one definitely shows its age.  It's deep, dark amber.
Aroma:
Huge dried oak on the nose along with honey and dried peaches.  Major contrast here between Barterhouse and Lost Prophet.  This is a much deeper, more complex aroma.  it showcases some cinnamon, nutmeg, and baking spices on end as well.  While some older oak-forward bourbons (cough Old Blowhard cough) get that "wet rope" smell to them, this one reminds me of freshly sawed oak, not old, dank barnwood.
Taste:
Lost Prophet hits you with a big smack of dried wood right off the bat.  Contrary to the oak bomb that is Old Blowhard, this is a much more balanced oak flavor.  The flavor of this one also doesn't fully develop on the palate, however.  Sweet baked goods and leather dominate the tongue with a hint of butterscotch when the fresh oak sensation isn't doing the dominating, but it, like its brethren, lacks some of the vanilla and caramel sweetness I was looking for.
Finish:
Medium-long in length, this is a dry, spicy finish that really surprised me after the slightly one-dimensional taste.  In fact, it gets better and better on the finish, becoming quite enjoyable with flavors of cinnamon red hots and oak that linger on the back of the tongue.  At the very end, hints of caramel, leather, and vanilla seem to remain long after the rest have subsided, making the finish most pleasing.
Synopsis: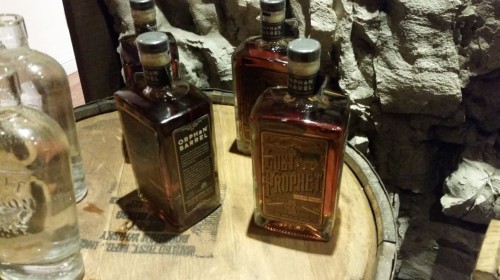 Adding water to this bourbon does tend to mute the oak flavors just a bit, and doesn't really hurt the traditional bourbon flavors underlying that too much, so this might be best sipped neat or with a small splash of water.  It is definitely an oak-forward profile, but it most certainly will not be confused with Old Blowhard, another Orphan Barrel release most often criticized for being too one-dimensional.
The nose on Lost Prophet is pretty good.  The flavors are far more balanced than the other Orphan Barrel releases to date, though it still tends a bit too much towards the oak for me to rave about it.  The finish, however, is excellent.  That makes this a very hard bourbon to finally judge and score.  Ultimately, my impressions are positive, and that's largely because first and last impressions always stick with us, and the nose and finish are its strongest attributes.
Most interesting to me was the oak profile.  This is a 22 year old bourbon, which has spent a lot of time in barrels, obviously.  Yet the oak profile seems like a "new oak" profile rather than an aged oak.  It just seems like a REALLY BIG new oak profile.  The texture was dry, and perhaps it was just my imagination, but I had visions of freshly sawed wood and sawdust dancing across my tongue as I sipped it.  Maybe that sounds terrible, as it looks a little odd when I see the words, but it wasn't a negative.  If anything, it was very unique, and intrigued me quite a bit. Those who like a lot of oak in their sip will like this quite a bit.
As to whether or not you should rush out and buy this, I can't really say, as that's a matter of finance.  $120 is steep for a bottle of bourbon, but it's not out of line for a bottle that is 22 years old.  In fact, if you can point me to another bourbon, any bourbon, that is 22 years old for $120 or less, I'll take two of them.  More importantly, something tells me that if Buffalo Trace were to release identical barrels under their own name, $120 wouldn't buy you a half sized bottle, let alone a full 750 ml.  And I don't know that they would age as gracefully in Frankfort in wooden rickhouses as they have in Stitzel-Weller's steel-clad warehouses.  From a money standpoint, I can't fault the retail price at all.
This is good bourbon.  I hesitate to put any 20+ year old rye-recipe bourbon in the great category, but it may just be the best way for bourbon drinkers to get a taste of ultra-aged bourbon without mortgaging their homes or waiting in line overnight for a chance at a Pappy lottery.  I expect this will be available on shelves initially, but it may not last long.
Lost Prophet is the best of the Orphan Barrel releases to date.  It does a much better job balancing the oak with the sweet, and provides an excellent nose and finish that make the experience worth while.  Of course, it's impossible for a 22 year old bourbon to be perfect, as bourbons generally tend to peak long before they reach even 20 years old. And while I still think this might work just a touch better closer to 100 proof, this is still a very good representation of an ultra-aged bourbon, and bodes very well for the future of Orphan Barrel Distilling Co.
ModernThirst.com score: 90 out of 100
---