[amazon_link asins='B00H143UXW,B06Y1VGMH2′ template='MT-product-carousel' store='modernthirstc-20′ marketplace='US' link_id='89cd9de4-ff80-11e7-ad0b-b3d612b3a656′]
It's been six long months, but for those who've written and asked why we ended the series, take heart!  It's time for round 10 of the Budget Bourbon Battle Royale!  (Follow this link for previous rounds.)
If you're not familiar with this series, we're reviewing bottles that can be had for $20 or less in most areas. If you'll recall, the final round of the BBBR went to Evan Williams While Label (also known as Evan Williams Bottled in Bond).  Today, we're returning to a familiar name in the Battle Royale, and trying a different bottling of Ancient Age juice, un-creatively named Ancient Ancient Age 10 Star…not to be confused with Ancient Age.  Or Ancient Ancient Age 10 Year, both of which actually are different bourbons.  Confused yet?
 Round 10: Evan Williams White Label Vs. Ancient Ancient Age 10 Star
To quote Michael buffer:
For the thousands on twitter and the millions of readers around the world, ladies and gentlemen, LLLET'S GET READY TO RUUUUMMMBBBLLLLLLLLEEEE!
---
The Challenger: Ancient Ancient Age 10 Star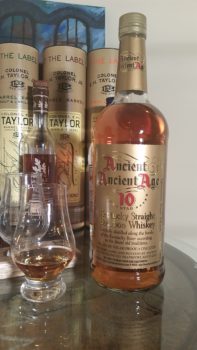 Aged a minimum of 36 months, but otherwise not age-stated, this 90 proof whiskey comes from Buffalo Trace, made using Mash Bill #2, which it shares with the rest of the Ancient Age lineup along with Blanton's Hancock's Presidential reserve, and Elmer T. Lee, among others.
Appearance: Medium Russet,  somewhat dark for a 3 year old whiskey.
Nose: Vanilla, Orange Peel, slight Oak, Citrus and Lemon Zest, Mild Cloves.
Taste: There are only a few hints of butterscotch before this whiskey turns very thin on the tongue.  Some defeinte light oak with some hints of tangerine and apricot.
Finish: Medium-to-long in duration, there are some black pepper spices on the tail end alond with some oak and fresh wood accents.
Score: 80/100
---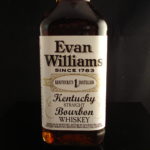 The Reigning King of the Ring: Evan Williams White Label
The White Label is aged 4 years, and clocks in at 100 proof, as bottled-in-Bond bourbons do.
Appearance: Deep amber.
Nose: Corn, Bakery Goods, Vanilla
Taste: There are some early fruits, including apricot and banana, but they give way to traditional smoother bourbon flavors of vanilla, caramel, maple syrup, and oak.
Finish: Surprisingly long and smooth, with black pepper and cloves.
Score: 86/100
---
Synopsis:
Evan Williams continues to Reign Supreme.  This wasn't really a close matchup, to be honest.  The AAA10Star felt very thin and one dimensional on the palate, never really developing much depth of flavor.  It definitely had that wonderful Buffalo trace nose, but clearly lacked the Buffalo Trace flavor profile that distinguishes so many of their fine bourbons from all price points.  Evan Williams White Label clearly blurs the line between a budget bourbon and a premium.  In fact, I'd wager that most palates would have a hard time declaring this a budget bourbon at all. It is smooth, flavorful, and worthy of a sip.  At under $15, it may be among the best values in bourbon today.