Ancient Ancient Age 10 Star
I recommend using this as a mixer, but I wouldn't plan to sip it neat.
Ancient Ancient Age 10 Star
This truncated review was originally posted in Round 10 of the Budget Bourbon Battle Royale.  For the complete series, including Round 10, click here.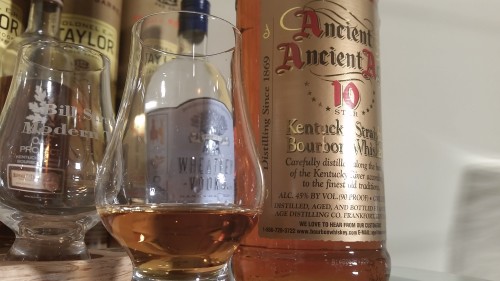 Aged a minimum of 36 months, but otherwise not age-stated, this 90 proof whiskey comes from Buffalo Trace, made using Mash Bill #2, which it shares with the rest of the Ancient Age lineup along with Blanton's, Hancock's Presidential reserve, and Elmer T. Lee, among others.
Appearance:

 Medium Russet,  somewhat dark for a 3 year old whiskey.

Nose:

 Vanilla, Orange Peel, slight Oak, Citrus and Lemon Zest, Mild Cloves.

Taste:

 There are only a few hints of butterscotch before this whiskey turns very thin on the tongue.  Some defeinte light oak with some hints of tangerine and apricot.

Finish:

 Medium-to-long in duration, there are some black pepper spices on the tail end alond with some oak and fresh wood accents.

Score:

 80/100
Synopsis:
The AAA10Star felt very thin and one dimensional on the palate, never really developing much depth of flavor.  It definitely had that wonderful Buffalo trace nose, but clearly lacked the Buffalo Trace flavor profile that distinguishes so many of their fine bourbons from all price points. I recommend using this as a mixer, but I wouldn't plan to sip it neat.
---
The ModernThirst.com scoring system is a standard 100 point system based on 4 categories, taken in order.

Appearance: 15 points
Nose: 25 Points
Palate/Taste: 35 Points
Finish: 25 points

95+        Epic
90-94     Excellent, Good representative of its style
85-89     Solid sipper
80-84     Drinkable, but potentially flawed.
75-79     Low quality, flawed, use as a mixer only
<75        Rot Gut, avoid