We're going to try something new this month.  For the first time, we're introducing a Bourbon of the Month.  We'll feature a bourbon that is either freshly released, or easily attainable, and ask that our readers give it a try, if possible sometime during the month and share their impressions with us.  (And no, we're not being paid/sponsored/compensated for this in any way, and bourbons will be chosen spontaneously – by me- from bourbons I've reviewed or enjoyed.)
What does that mean?  Anything you like!  First off, send us you own photos of that month's bourbon and we'll post them on the site.   Show us how you're drinking it, where you're drinking it, or anything (non-offensive) related to that bourbon.  Low quality, high quality- it's up to you.  Just make sure it's not copywritten material (i.e. take the photos yourself, don't download someone else's.)
Send us your thoughts, impressions, personal reviews, etc, and we'll include them as well.
There are multiple easy ways to send us your photos and thoughts:
Comment on Facebook
Send us a tweet @Modern_Thirst
Post in our forums (you'll need to register)
email them directly to [email protected]
post them to the comments section below
---
December's Bourbon of the Month is Larceny!
This is an approachable and affordable wheater from Heaven Hill.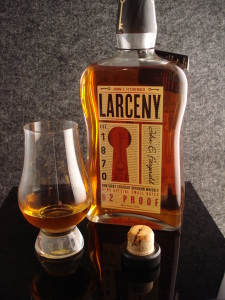 We reviewed Larceny directly back in March, and we featured it in a head-to-head Throw Down with W. L. Weller as well.
Synopsis:
Larceny most definitely carries much of the same DNA as the Old Fitzgerald line of whiskey, which probably adds fuel to the fire for rumors of the discontinuation of the Old Fitz brand name altogether.  Larceny is a very tasty bourbon in the same vein as other Louisville-made wheated bourbons of ages past.  One might be inclined to argue that Louisville has created a sub-niche within the bourbon world with the wheated bourbons beginning with the old Stitzel-Weller distillery (now closed) and carrying through to the present-day Bernheim distillery.   Regardless, Larceny drinks like a much more expensive bourbon.  It's very similar in many ways to the Old Fitzgerald 12 Year offering, and only really differs in the aging, to my taste.  It's so similar, in fact, that I wouldn't hesitate to say that at $10-15 cheaper, it's so close to the Old Fitz 12 that it may be imperceptibly different to most palates, but not to most wallets.
ModernThirst.com score: 86 out of 100 points
What's your take on Larceny?  It seems like a mixer in eggnog might be seasonally appropriate if anyone is looking for photo ideas!
---
@GaterMatt wrote:
@Modern_Thirst It's always nice to have a #bourbon that comes in airplane bottles (Matches and dice sold separately) http://t.co/zHDJYeGlWE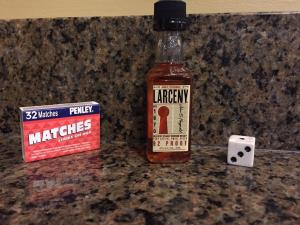 ---
Dale from South Louisville wrote:
"I take it to every Louisville football game.  It's my go-to for tailgating."
---
GQuiz in the ModernThirst.com Forums wrote:
"Larceny is a very nice bourbon. What struck me was how fast the finish finished. You savor and, poof, it's gone. No long afterburn. I enjoyed it. "