[amazon_link asins='B00H143UXW,B072HNRNGK' template='MT-product-carousel' store='modernthirstc-20′ marketplace='US' link_id='788a59c2-8e50-11e7-b71d-4934fe5f5871′]
We've been building our library of bourbon reviews steadily over the past couple of months, and the past several seem to have involved a lot of references to Stitzel-Weller and wheated bourbons.  I'm not particularly a fan of wheated bourbons, but with the popularity of the Pappy Van Winkle offerings, they seem to be en vogue at the moment, so I thought what better time to cover two more wheaters than now, and what better way to do it than a head to head throw-down between two very popular and available wheated bourbons: W.L. Weller and Larceny?
I will post these reviews individually as well, so you can find them separately in the archive.
What they are

:

Both of these bourbons are "wheated" bourbons.  They use wheat as the secondary mash grain rather than rye.  Wheat tends to add a velvety creaminess to the texture of the bourbon and sweetness to the taste, rather than the traditional spiciness of rye, the more common secondary grain.

Larceny is a small batch wheated bourbon from the Bernheim Distillery in Louisville as part of the Heaven Hill family of spirits.  The name derives from stories of John E. Fitzgerald (of Old Fitzgerald family fame)'s habit of using his personal keys to the bourbon warehouses to 'liberate' barrels of his favorite bourbon to give to family and friends.  There have been numerous reports that Heaven Hill intends to replace the Old Fitzgerald line with larceny, but they are thus far unconfirmed.

Larceny is a small batch bourbon (100 barrels or less) of barrels from the middle three floors of the aging warehouse.  The barrels that go into each batch are aged anywhere from 6 to 10 years.   It is bottled at 92 proof.  I bought this bottle for $23 at a local big box store.

W.L. Weller is produced in Frankfort, KY at the massive Buffalo Trace Distillery.  In years past, it was owned by the Van Winkle family and produced at the famed Stitzel-Weller distillery.  Today, it shares the mash bill of the Pappy offerings, though the aging locations, times, and barrel choices differ.  Though age statements have been removed from the label, W.L. Weller is a 5-7 year old bourbon bottled at 90 proof.  My bottle was a barrel-select program from the same big box store, and cost $20.

Packaging:
Larceny is packaged in a square, almost hourglass-shaped bottle with a cream label and black wrapper over the cork.  Yes, this bourbon is corked, rather than sealed with a screw-top.  That it sometimes unusual for a bourbon at this price range.  It is, overall, a very attractive packaging, and could be used for a much more expensive product.
W.L. Weller is packaged in a squat, rounded bottle similar to the other two standard Weller offerings.  It has a white plastic screen-printed label and green screw top.  It proudly declares itself "The original Wheated Bourbon."  The packaging reflects the price, which is to say "It looks cheap."
Advantage: Larceny.
Appearance

: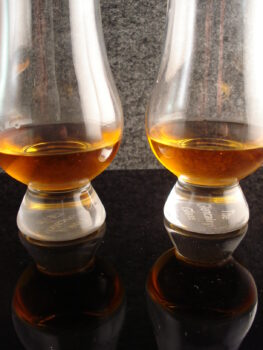 Larceny is a medium amber with some deep tints, while W.L. Weller is a touch lighter in shade with golden hints.
Advantage: Tie
Aroma:
The first whiff of Larceny brings out a quick hint of simple syrup sweetness.  It is followed up by bakery goods and corn.  There are some citrus notes and ripe bananas on the back end.
Weller begins sweet on the nose as well; however the sweetness is more fruit-based.  There is the corn, but it is followed by apricot and orange with hints of vanilla.
Advantage: Weller
Taste:
The Larceny began with a distinctive prickle on the front of the tongue from the wheat that carried over to the rest of the tasting.  It isn't unpleasant, but it's unique to Heaven Hill's wheated offerings (see our review of Old Fitz 12 Year).  Under the prickling sensation is a creaminess that coats the tongue with flavors of sweet syrup, caramel, only a little vanilla, but plenty of bakery goods such as wedding cake and frosting.
Weller begins with a crisp citrusy sweetness on the tip of the tongue.  There are hints of honey, strong peach and apricot with orange peel and heavy fruit on the back of the tongue.  Weller seems a little 'thin' for a wheated bourbon, lacking the tongue-coating texture of some older wheated bourbons.
Advantage: Larceny
Finish:
Larceny is a medium to short finish, clean, with that lingering texture and the taste of baked goods on the end.
Weller is a very short finish, very clean and crisp, with faint hints of citrus on the back of the tongue.
Advantage: Can't beat that texture.  Larceny takes this one.
Synopsis:
Larceny most definitely carries much of the same DNA as the Old Fitzgerald line of whiskey, which probably adds fuel to the fire for rumors of the discontinuation of the Old Fitz brand name altogether.  Larceny is a very tasty bourbon in the same vein as other Louisville-made wheated bourbons of ages past.  One might be inclined to argue that Louisville has created a sub-niche within the bourbon world with the wheated bourbons beginning with the old Stitzel-Weller distillery (now closed) and carrying through to the present-day Bernheim distillery.   Regardless, Larceny drinks like a much more expensive bourbon.  It's very similar in many ways to the Old Fitzgerald 12 Year offering, and only really differs in the aging, to my taste.  It's so similar, in fact, that I wouldn't hesitate to say that at $10-15 cheaper, it's so close to the Old Fitz 12 that it may be imperceptibly different to most palates, but not to most wallets.
Larceny: 86 out of 100 points.
W.L. Weller has received an awful lot of talk recently with the common bones it shares with its more refined cousins at Pappy Van Winkle.  But let me say this to those of you hoarding this like it is Pappy Van Winkle bourbon:  It isn't.  Stop it.  It's solid, especially for the price.  But you are not getting a cheaper version of the same whiskey here.  This is a young bourbon for a wheater, and suffers the same flaws younger wheat bourbons suffer from.  It's a little thin, lacks a lot of punch, and the wheat hasn't had enough time in the barrel to develop the textures that make Pappy and other wheated bourbons so pleasing on the tongue.  It is not a bad bourbon.  But it is not a great one either, nor is it even the best option in its price range for fans of wheated bourbons in particular.  It is drinkable and affordable.
W.L. Weller: 84 out of 100 points.
There you have it.  These bourbons grade out very similarly in the long run.  They are very similar in price, mash bill, and appeal.  However, Larceny pulls away the win here based largely on the superior texture and wider depth of flavor.
---