Eagle Rare 10 Year
It's still drinkable, and it's still a decent bourbon, but it's no longer the great bourbon at a greater price point it used to be.
[amazon_link asins='B00H143UXW,B06Y1VGMH2′ template='MT-product-carousel' store='modernthirstc-20′ marketplace='US' link_id='89cd9de4-ff80-11e7-ad0b-b3d612b3a656′]
Stats:

Age: 10 Years
ABV: 45% (90 Proof)
Producer: Buffalo Trace; Frankfort, KY
Mash Bill: Buffalo Trace Mash Bill 1 (7-10% Rye)
Price Paid: $29.99
Availability: Allocated, but generally available
What it is:
Eagle Rare is the stalwart workhorse of the Buffalo Trace Mash Bill #1 product line. Along with the namesake Buffalo Trace bourbon, it marks the entry point of the recipe into high end, premium bourbons. Much to the disappointment of its legions of fans, Buffalo Trace has recently changed the labeling of the product, moving the age statement to the rear label and removing the "Single Barrel" designation altogether. Bourbon snooths fear this is a precursor to removing the age statement altogether.
Harlen Wheatley, Master Distiller of Buffalo Trace denies this. He wrote in an open letter to customers that the change was necessitated by a new bottling and labeling line that could no longer support the age statement printed on the neck, and that the new bottling line could not guarantee that whiskey from two barrels could mingle in the pipes as they finished bottling one barrel and moved to the next, and thus they wouldn't claim "Single Barrel" if there's a chance it won't be a single barrel. For myself, I've noticed a change from older bottles to new. This bottle is a new bottle, as that's what I think most of our readers will find on shelves today.
Packaging:
It's packaged in a tall, sloped-shoulder bottle reminiscent of the Antique Collection. It's attractive.
Appearance:
Dark copper, brownish in color with deep amber undertones.
Nose:
From the start there's a dark, sweet aroma with plenty of barrel notes on the nose. I get a decent amount of caramel, but it's missing the traditional unique sense of clean, crispness I have come to expect from Buffalo Trace.
Taste: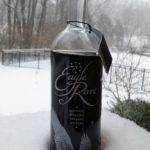 Right off the bat, the tongue is met with a powerful rush of burned brown sugar and molasses. That gives way on the middle of the tongue to some vanilla and cloves, and a huge rush of oak and tannins fills the back of the mouth. But unlike past bottlings, the flavors are all a bit muted on this. They're all there, but it's like they're trapped under a wet blanket. Maybe this is what I've heard described as a "batched" profile. Slightly disappointing.
Finish:
Fairly long, but the lingering sensations are of oak and age with some cinnamon and spice.
Synopsis:
I'm disappointed. For all the talk amongst bourbon snobs, I really didn't expect a major change between the old and new Eagle Rare. But I found exactly that.  To make sure I wasn't crazy, I opened a second 375ML bottle of the old label for a side by side comparison, and sure enough, the flavors are crisp, powerful, and well defined in that bottle. The new bottling tastes batched. Whether that's intentional or not, I can't say, but it's not the same juice it once was, to my palate. It's still drinkable, and it's still a decent bourbon, but it's no longer the great bourbon at a greater price point it used to be.
ModernThirst.com score: 84 out of 100 points.
---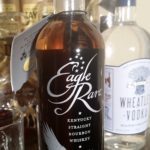 Old Label (Single Barrel Designation):
In tasting the old label bottling next to the new (let's call it "batched" for lack of a better term) bottling, I get the same nose and appearance, with a bit more barrel influence.  Upon tasting, the tannins are clearly sharper, and there's that Buffalo Trace crispness like fresh spring water on the tip of the tongue.  That's what I was missing in the new bottling.  The finish is sweet and vanilla-laden with heavy oak and loads of barrel flavors.  Much better.
ModernThirst.com score: 89 out of 100 points.