It's really the age old question for bourbon-lovers isn't it?  On what particular whiskey (or whiskeys) should a whiskey lover spend their hard-earned dollars?  To best answer it, I decided to call in the cavalry.  I contacted a number of bourbon and whiskey bloggers, podcasters, writers, and retailers and asked them to submit their own strategic allocations of a hundred bucks.  The series is called "If I had a Benjamin." (See the whole series here.)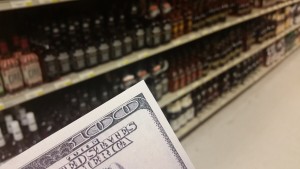 Our next post comes to us from a very short (metaphorical) distance.  It's ModernThirst's very own resident Beermeister and all around good guy, Matt Gates!  If you're reading this, you already know where to find Matt's writings, I hope.  Just click the "home" button at the top and you're on the right site!  If that proves to be a challenge for you, just click here.  If you can't tell, Matt and I sometimes share a brain. That is actually out of necessity, as between the two of us, alcohol has probably left us with only enough functioning brain cells to power a single noggin.  Matt chose some of my absolute favorite go-to pours on which to spend his Benjamin.  Love these picks.  And I was wondering if anyone else would check out other formats to squeeze in some new names.  I was thinking 375ML bottles, but Matt was a step ahead of me and added the 50ML bottle to round out his selection.  Great idea.
By Matt Gates, ModernThirst.com

With the bourbon boom in full swing, more and more consumers are excitedly entering their local liquor store only to be overwhelmed by the abundance of choices on the shelves in front of them.  This "If I had a Benjamin" series should offer some relief to those overwhelmed consumers.  The question of how to approach the task will certainly be tackled in a variety of ways by this bourbon brain trust.  My approach will be this: I have a liquor cabinet void of any whiskey, $100 bill  and a desire to not drink the flavored vodka that someone left here a half decade ago.

Since I am starting from scratch, I am going to want to address a variety of taste profiles with my selections so I can have a well-rounded whiskey selection on hand.  Unfortunately with this approach, I will not be able to have any true rock star bottles, but I believe I have settled upon a stable that represents true flavor and value.

The first bottle that I pick up is Old Weller Antique 107 ($24.99).  My primary reason for picking this up is because it has been a go to pour at my house for many years.  Beyond that it does fulfill some of the key components that I am looking to add to my barren shelf.  First of all it is a Buffalo Trace product, which certainly is considered by many to make some of the best bourbons, so they needed to be represented here. OWA also clocks in at 107 proof, so that satisfies a criteria of having  a high proof bourbon (I would have loved to put a barrel proof selection on here too, but cuts had to be made).  From a flavor profile, we are getting some oak here and real nice caramel and vanilla flavors.  I certainly had to have a wheated bourbon on the list as well.  With all of these attributes, this would also be featured on my "If I had two Hamiltons and a Lincoln" entry.

With Buffalo Trace checked off the list, I move west to Heaven Hill and actually grab two bottles from their fine distillery. Elijah Craig 12 Year ($28.99) is perfect to add to this list.  It gives me some age and its corresponding oakiness and a lot of caramel.  It also gives us a more standard bourbon mashbill and a great value for a 12 year bourbon.  Unfortunately this value is a poorly kept secret, grab it now before the age statement is gone and the price goes up.

Staying with Heaven Hill and even more value, I reach down to the bottom shelf and proudly grab Evan Williams White Label Bottled in Bond ($13.99) This is probably the best value in bourbon.  It is smooth and certainly is a nice sipper, but I don't mind if you put it in Coke.

Photo Courtesy of Diageo/Bulleit and Taylor Strategy

Possibly a controversial pick will be Bulleit Rye ($26.99)  I, like many, have been becoming more and more of a rye fan, so I certainly needed one on the list.  Most of the ryes people are drinking are sourced from MGP in Lawrenceburg, IN, and their 95% Rye mash bill is one of the best.  I would have put Old Scout in this slot, but to save a few bucks, you can't go wrong with Bulleit. You get a nice rye citrus and spiciness here that you won't get in any of these other bourbons, and since I didn't pick any high rye recipe bourbons, you could play around with mixing (vatting) the rye with some of these bourbons for a new unique taste.

I have a little money left over and do not want to neglect Jim Beam, so I grab a 50ml airplane bottle of Knob Creek for ($4.99).  This is widely considered a go to premium bourbon by the masses for good reason.  Not many would turn their nose up at Knob Creek, and is very complex with a nice sweetness at 100 proof.

There you have it.  Obviously if you are reading about bourbon, none of these names surprise you and none of them are 'sexy' picks, but if you have a bare liquor cabinet, these are some fantastic cornerstones on which to start building a collection.
---