[amazon_link asins='B00H143UXW,B06Y1VGMH2′ template='MT-product-carousel' store='modernthirstc-20′ marketplace='US' link_id='89cd9de4-ff80-11e7-ad0b-b3d612b3a656′]
On Friday, May 1st, I was invited to attend a Blade & Bow Kentucky Oaks dinner at the legendary Stitzel-Weller distillery in Shively, KY.  At the dinner, Diageo, the current owners of Stitzel-Weller, provided a tasting of its newest Kentucky Bourbons: Blade & Bow and Blade & Bow 22 year bourbon.  Both are Straight Kentucky Bourbon, and differ in both their distillate and the age of the whiskey.
Blade & Bow
Age: Whiskey ranging from 6 years to upwards of 20+ years is blended using the Solera method.
Producer: Diageo (Whiskey is blended from multiple sources, including original Stitzel-Weller distillate)
ABV: 45% (90 Proof)
Local Price: $52.99 (Louisville, KY)
Availability: Available
Blade & Bow 22 Year
Age: 22 Years
Producer: Diageo (Whiskey is blended from distillate from Bernheim Distillery and Buffalo Trace Distillery)
ABV: 45% (90 Proof)
Local Price: $160.99 (Louisville, KY)
Availability: Rare, Limited Release
---
Blade & Bow Kentucky Straight Bourbon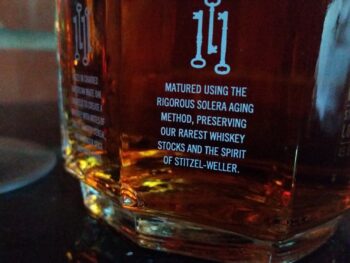 The Standard Blade & Bow is not age stated on the bottle, but is blended from, we were told, whiskey as young as six years old to bourbon that is over 20 years old using the Solera aging method.  The Solera method involves rotating whiskey from five different barrels, blending them from the youngest to refilling the oldest barrels as a portion of each barrel (never more than 50% of what's left) is dumped for bottling.  Thus, the average age of the whiskey in the final product increases versus the original 6 year old barrel.  In this way, Diageo is using stocks from the last distillate produced at the distillery itself and blending it with newer whiskey from other distilleries, much that has been aged on site, and therefore stretching the now extremely limited supply of 25+ year old Stitzel-Weller distillate.  The process is not new to spirit production, as its used somewhat commonly with wine and other liquors, but it's a relatively new process with American Whiskey and Bourbon in particular.  It is priced around $52.99 at local (Louisville, KY) liquor stores.  it will be a  regular release bourbon.
---
Blade & Bow 22 Year Old Kentucky Straight Bourbon

Whiskey
This is a very limited one-time release of 22 year old whiskey distilled at (apparently) both the Bernheim distillery in Louisville (now Heaven Hill) and the Buffalo Trace distillery in Frankfort.  There is no mention of the Solera process on this bottle, which would make sense, given the extreme age of the bourbon inside.  It is priced around $160 at local stores.
---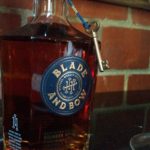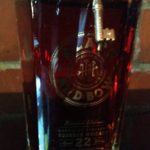 Packaging:
Both are packaged in cordial-like containers with sharp edges resembling crystal whiskey decanters.  The Standard release has a blue and gold label on the front with blue foil on the neck.  the 22 Year uses gold foil and a gold screen-printed logo.  Both have a key hanging around the bottle's neck.  The key represents the Stitzel-Weller motto of 5 keys to great bourbon.  There are 5 distinct keys that Diageo urges buyers to collect, some are common while others are purportedly rare.  These are very attractive packages, and at these prices, they should be.
---

Appearance:
B&B: Medium Russett
B&B22: Mahogany
Aroma:
B&B: Some ripe peach and vanilla on the nose with definite hints of oak and age.  There are definite notes of butterscotch as well.
B&B22: Plenty of charred oak, but a smooth, caramel and vanilla undertone.  Very pleasing.
Taste:

 
B&B:  More fruit here, but mostly dried fruit.  Pears and apples spring to mind with a back end of tannins and dried, charred barrel.
B&B22: Smooth, buttery texture with sweet baked goods and honey on the tip of the tongue.  It gives way to vanilla, butterscotch, and caramel on the back.
Finish:
B&B: Medium in length, with a punch of Oak and lingering caramel flavors.
B&B22: Long, lingering, and smooth.  there is a clean, dry oak flavor that seems to permeate with cloves and cinnamon that linger on the mid palate.  Peppery spice seems to rear its head near the back of the tongue, but never overpowers.
Synopsis:
Two interesting bourbons form Diageo here.  I have to say, it makes almost no sense that these are both released as Blade & Bow, as they appear to have little or no relation to each other.  Honestly, both are fine sips, but they are so diametrically different in flavor profile that it's a little disjointed tasting the two side-by-side.  They are made form different whiskeys made at different distilleries using different blending and aging techniques.  The only thing they appear to have in common is the name.
Really, the proper comparisons here are for Diageo's other recently-released whiskeys, I. W. Harper and I.W. Harper 15.  Both compare favorably to the I.W. Harper line in everything but price.  And that's where we come to the crux of the discussion.  These are pricey.  Yes, there is really old whiskey in either bottle, but the standard Blade & Bow doesn't really give a punch of age, so its a bit moot with that bottle.  Still, it doesn't taste young either.  If I didn't know better, I'd have guessed 8-12 years, but never would have said there any whiskey as old as 20+ years or as young as 6 years.  That speaks to the Solera aging process, I suppose.  To be fair, I have to say it seems to work.  This is an enjoyable sip.
The 22 year is really a different beast altogether.  It's rare to find bourbon this old, for one.  But Diageo has done a good job blending this into a smooth, enjoyable sipper that manages to avoid being grossly over-oaked, as has sometimes been the case with very old bourbons in the past several years.   Diageo may be coming into its own blending such whiskeys, as it did so successfully with Orphan Barrel's Lost Prophet as well, another 22 year old release from parent company Diageo.  It's actually difficult to find whiskeys of that age that use a rye mash bill that don't taste like a rotting canoe.
Granted, at this price tag, consumers have to pay for the privilege of tasting it.  And that's where some hand wringing has to come into play.  Based on taste alone, I'd say the 22 year old blade & Bow is an excellent bourbon.  It's really nice, as a matter of fact, and doubly so when considering the age.  But at $150+, the relative value of this bottle has to be in the hands of individual purchasers.
The standard Blade & Bow is a nice sip as well.  Though like its older step-brother, the price tag has to be considered.  $50+ is steep for many buyers.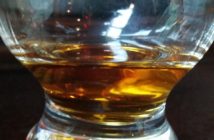 On a side note, we were treated to some barrel proof standard Blade & Bow in the tasting room at Stitzel-Weller.  We were told it clocked in somewhere just over 120 proof.  The color was deep and inviting.  The aroma was lush and sweet.  On the palate, it was robust and spicy with plenty of underlying decadent sweetness.  I'm really hopeful that Diageo releases a barrel-proof whiskey of some sort, even on a limited basis, in the near future.  Consumers are clamoring for it.
---
Blade & Bow:
ModernThirst.com Score: 88 out of 100 points.
---
Blade & Bow 22 Year:
ModernThirst.com Score: 90 out of 100 points.