Old Forester Single Barrel
Old Forester Single Barrel is a little oak-heavy on the finish for me, trending towards overly bitter. Still, the nose is excellent, and the initial flavors are quite nice.
[amazon_link asins='B00H143UXW,B06Y1VGMH2′ template='MT-product-carousel' store='modernthirstc-20′ marketplace='US' link_id='89cd9de4-ff80-11e7-ad0b-b3d612b3a656′]
Stats:
Producer:  Brown-Forman, Louisville, KY
Selected by: The Bourbon Society, Louisville, KY
ABV: 45% (90 Proof)
Age: 4 years, 9 Months
   Barreled: 05/08/2010
   Dumped: 02/01/2015
Barrel # 3164
Lot ID: 3164
Original Barrel Proof: 129.2
Price Paid: $30
Availability: Limited, though other barrel selections of Old Forester may be more readily available.
What it is: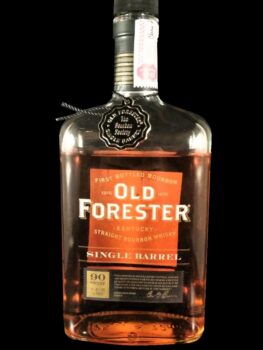 Old Forester is about as old a name as it gets in bourbon.  George Garvin Brown founded J.T.S. Brown & Co. as  in 1870 at 322 West Main Street on Whiskey Row in Louisville, KY. He is credited with being the first to market bottled bourbon.  His company (now called Brown-Forman and still owned by the Brown family today) created Old Forester in 1910, and it is the flagship bourbon whiskey for Brown-Forman.
The Old Forester Single Barrel program is a private selection program in which retailers and groups can select and purchase full barrels of bourbon and have them bottled for their customers at 90 proof.  Since each selection is a single barrel selection, there is potentially a wide variation between each bottling.  Thus, this review pertains to a specific bottling rather than all Old Forester Single Barrel Selections.
Tim from The Bourbon Guys recently commented on Twitter that with the scarcity of limited release bourbons, private barrel selections (really good ones) are becoming the sought-after bottles for bourbon lovers.  I tend to agree with that.  For a fraction of the cost of many limited releases, buyers can hunt for and purchase bottles from "honey barrels" of more standard bourbons.  It should be noted, however, that selections vary greatly from one to another, dependent largely on the taste of whoever selected the barrel.  So my recommendation would be to find someone whose tastes with your own and follow their barrel selections closely.
This particular barrel of Old Forester was selected by The Bourbon Society in Louisville, KY, which happens to be the original Bourbon Society.  It is just under 5 years old, and bottled at 90 proof, as are all Old Forester bottlings.
Packaging: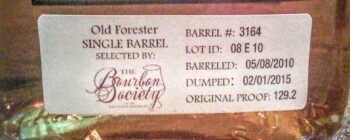 Unlike the rest of the Old Forester Line, the single barrel is a squared bottle with screen printed logo.  A metal medallion hangs around the neck denoting who selected the barrel, and a printed tag on the bag provides stats such as barrel date, date dumped, etc.
Appearance:
This is a very dark bourbon for one that is under 5 years.  Russet, bordering on brown.
Aroma:
Lots of caramel on the nose, some vanilla, and simple syrup.
Taste:
Chewy and viscous, there is a slight disconnect between the nose and the taste.  The nose is all sweet and syrupy, but the taste is heavy barrel char with dark fruits overlaying the simple syrup and corn sweetness.
Finish:
Again, the finish is all oak and tannins with barrel char and aromatic bitters.  It is medium to long in length.  The texture thins quickly here, however, and it becomes a little light and watery on the tongue.
Synopsis:
It's certainly tasty, but it's heavy in barrel flavors, particularly for a bourbon that is so young.  Those who love an oak-forward flavor profile will like this quite a bit, and it will make a fantastic Old Fashioned.  As it stands, Old Forester Single Barrel is a little oak-heavy on the finish for me, trending towards overly bitter.  Still, the nose is excellent, and the initial flavors are quite nice.
ModernThirst.com Score: 87 out of 100 Points.