Hancock's Reserve
It won't jump out of the glass like some Buffalo Trace products, but it's a solid offering from Mash Bill #2 at a pretty accessible price.
[amazon_link asins='B00H143UXW,B06Y1VGMH2′ template='MT-product-carousel' store='modernthirstc-20′ marketplace='US' link_id='89cd9de4-ff80-11e7-ad0b-b3d612b3a656′]
Quick Stats: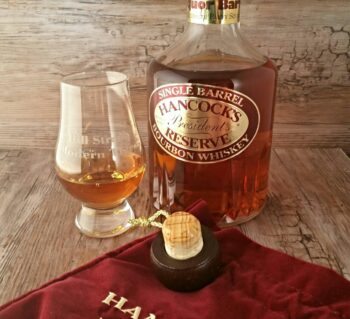 Produced By: Buffalo Trace, Frankfort, KY
Style: Single Barrel Bourbon
Mash Bill: Mash Bill #2 (12-15% Rye)
Barrel Selected by: Liquor Barn, Louisville
ABV: 44.45% (88.9 Proof)
Price: $32.99
Availability: Regionally Available
No Age Statement
What it Is:
Hancock's President's Reserve, usually referred to simply as "Hancock's Reserve," is a single barrel bourbon whiskey from Buffalo Trace's Mash Bill #2, which is shared with Ancient Age, Blanton's and others.   Thus ,while it's Buffalo Trace's higher rye mash bill, it's still a relatively standard or even low rye level compared to other bourbon producers.
The label gets its name from Hancock Lee, an early explorer who first surveyed the land upon which Buffalo Trace was later built and still stands today.  It is bottled at a somewhat puzzling 44.45% ABV, which comes out to 88.9 proof, making it somewhere below Blanton's and Rock Hill Farms on the proof ladder for Mash Bill #2.  This bottle was from a private barrel selected by Liquor Barn in Louisville.
Packaging: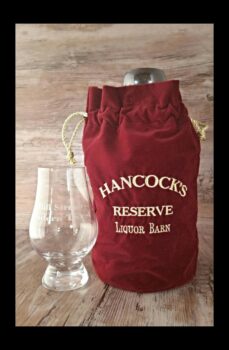 The bottle is a nice round decanter-shaped bottle, but it relies on  foil printed label which seems out of place in tis lack of attention to design or, well, anything resembling attractiveness.  There's a second gold foil label around the neck with Liquor Barn's logo.  This bottling was offered in a red velvet bag with the spirit name and "Liquor Barn" stitched in gold lettering.  It's a strange mix of upscale packaging (bag, bottle) and bottom shelf labeling (foil label).  It will look good in the bag on your shelf, and terrible without it.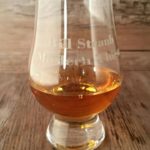 Appearance:
Medium to light amber in color.
Nose:
Some oak, followed by light caramel and vanilla.  Some nuttiness on as well reminding me of cashews or almonds.
Taste:
A little thin on the tongue, this is a light bodied bourbon with caramel and vanilla greeting the palate fading into spring water and new oak on the back of the tongue.  Definite currant and dark fruits on the edges of the palate as well.  None of the flavors are particularly overpowering.
Finish:
Medium-long in length, the dark fruits seem to rise to the forefront with a mix of light black pepper spice and barrel flavors.
Synopsis:
It's a decent offering form Buffalo Trace.  I  wouldn't prefer this to Blanton's, and it's not as full flavored as Elmer T. Lee, but it gets you in the Mash Bill #2 flavor profile with minimal cost and a lot less hunting at liquor stores.  Not to sell this short, it's entirely enjoyable, and somewhat unique at Buffalo Trace with the dark fruit undertones throughout.  It's priced excellently as well, despite the poor packaging.
ModernThirst.com Score: 87 out of 100 Points.