By now, you may or may not have heard of the whiskey gift available in the Neiman Marcus Christmas Book.  Now, before I go any further, please understand that the Neiman Marcus Christmas Book is a catalogue of "fantasy" gifts.  While there are numerous items on the list under $250, the highlights of the list are fantasy gifts- often one of a kind, and usually wildly expensive.  The gifts on the list have, over the years, included everything for an entire black angus cow (alive or in steak form) to a $35 Million Boeing Business Jet.  So there is a level of absurd luxury involved with a great many of these gifts.
This year, a new item of particular interest to bourbon lovers has been added to the list, and is short on neither expense, nor absurd luxury.
If you are a bourbon-loving multi-millionaire, and you have an extra $125,000 burning a hole in your pocket, you and 5 other friends can go to the historic Stitzel-Weller distillery in Louisville and take part in a fantasy bourbon experience.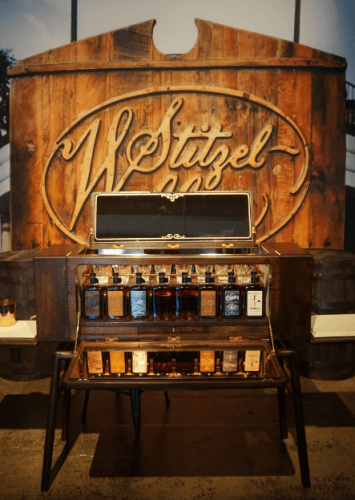 You can hunt the warehouses,  taste various "orphan barrels," and select two of them to have hand bottled with custom designed labels just for you.  In addition to those two barrels of whiskey, you'll receive 24 bottles each of the existing Orphan Barrel Distilling releases: Barterhouse, Old Blowhard, Rhetoric 20 year, Rhetoric 21 Year, Lost Prophet, and Forged Oak,
You'll also get a hand-made bespoke whiskey cabinet made from reclaimed wood from the distillery, and a leather-bound book about your whiskey.
Diageo (Orphan Barrel Distilling) will donate $5000 to the Heart of Neiman Marcus Foundation as well.
$125,000 is steep.  By steep, I mean REALLY steep.  But then again, this isn't really aimed at me.  I'm not sure whether to be really jealous of whoever buys this, or to laugh at the absurdity that the bourbon industry has become.  Maybe a little of both.  Either way, if you DO happen to be that multi-millionaire bourbon fanatic, and you DO happen to take advantage of this offer, I would highly recommend taking a bourbon writer and blogger with you for tasting purposes.  I'm sure this blogger would be happy to help you taste your whiskey, and happy to offer very unbiased reviews of the barrels you select.  To find the perfect blogger, just click on "about us" above, then "get in touch with ModernThirst…"
Kickstarter campaign, anyone?
The Orphan Barrel Project – Neiman Marcus 2015 Fantasy Gift from Orphan Barrel Whiskey on Vimeo.