Buried under the news of the sell-your-house-to-buy-a-fantasy-bourbon-barrel-selection-from-Orphan-Barrel-Distilling last week was another announcement of a new, innovative barrel selection program. This one comes from the folks at Maker's Mark.
A barrel selection program, or private selection program, allows retailers and restaurants to go to the distillery and taste whiskey from various still-aging barrels of whiskey. They can select the one they like best, and have it bottled exclusively for their own customers. it gives them a unique offering of a particular label available nowhere else. Maker's Mark has long been absent from such programs. I spoke with Maker's mark Master Distiller Greg Davis about a year ago if his company would be doing so in the near future, and he explained that the Maker's Mark aging process in which the barrels are rotated through the various locations inside the rick houses makes that a somewhat moot point, as they believe their process eliminates most of the variation from barrel to barrel. Little did I know, they had something much more inventive up their sleeves.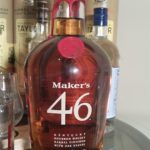 The Maker's Mark Private Select Barrel Program takes the concept of Maker's 46, which is standard Maker's Mark aged in secondary barrels with French Oak staves, a tep further in terms of customization and variation.
Participants in their program get to design that secondary barrel, or "finishing" barrel, as it's often known, themselves. Maker's makes available staves from a number of different woods, including Baked American Pure 2, Seared French Cuvee, Maker's 46®, Roasted French Mocha, and Toasted French Spice. Customers may choose any combination of these staves for a secondary aging. This adds up to a whopping 1,001 different combinations customers can choose to create a barrel of whiskey unique to themselves.
Pretty amazing, right? I'm excited to taste results. You can read the Maker's Mark press release here.