Old Tub
While the purchase of this is purely campy sort of souvenier experience, the bourbon in the bottle isn't bad at all. Compare this with Jim Beam Bonded.
Vital Stats
◾Distiller: Jim Beam, Clermont, KY
◾ABV: 50% (100°)
◾Bottled in Bond
◾Price Paid: $16/375ML
◾Age: 4 Years
◾Availability: Available only at the Jim Beam American Stillhouse gift shop in Clermont and at the Jim Beam Urban Stillhouse in downtown Louisville


What it is:
Old Tub is the venerable name of the bourbon produced before prohibition for locals in the Clermont area and for the Beam Family itself.  Its name, according to the label, derives from the manner of distribution back in the good ole' days- where local farmers and buyers would bring any vessel they could find to the distillery to fill up with whiskey.  They brought everything form earthenware jugs to…you guessed it…old tubs.
According to current Beam Master Distiller and great-great-grandson of Jim Beam himself, Fred Noe, when the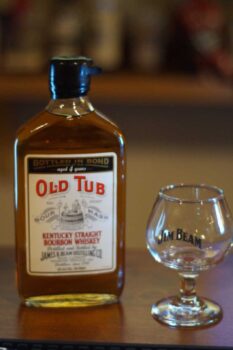 Beam family sold its business to Fortune Brands, then-master-distiller Booker Noe's only caveat was that his favorite everyday bourbon, Old Tub, continue.  So Old Tub was made strictly for his family's use.  Recently, Old Tub was resurrected once again as a gift-shop-only bottle, such as this one, available only at the Jim Beam Stillhouse in Clermont, KY and the new Urban Stillhouse in Downtown Louisville, KY.
It is around $16.99 for a 375ML bottle and is bottled in bond.  Thus, it is 100 proof, and it is age stated at 4 years.
Packaging:
As mentioned, this is a small, 375ML bottle, with a throw-back label hearkening to pre-prohibition traditions.  It's attractive in a campy sort of way.  The cap is sealed with black wax, but underneath is a plastic screw top, which is more than a bit disappointing.
Appearance: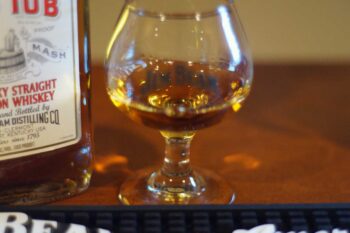 Medium brown
Nose:
Strong ripe bananas greet the nose, with hints of apricots and buttery toffee and butterscotch.  There is an underlying "Jim Beam" aroma that I always liken to cardboard throughout.  Some love that aroma, some don't.
Taste:
Peppery and spicy throughout the tasting, from back to front, black pepper is the dominant flavor here.  There are some notes of oak and some lights fruits as well, but this is a peppery sip, and not in a citrusy kind of "rye" way.  It was actually surprisingly tasty, as the pepper overpowers the cardboard notes from the nose.
Finish:
Medium in length, the pepper continues as it gains some cinnamon notes with some pleasant oak flavors.  There is a mild burn, as one might expect form a 100 proof bonded whiskey.
Synopsis:
This is definitely Jim Beam.  If you don't like the standard Beam bourbon flavor profile, you won't like this.  In fact, I'm not entirely sure how this differs from the regular offering of Jim Beam Bonded.  It may simply be an issue of barrel selection, or the only difference may be in packaging.  I can't say.  Regardless, this improves as it breaths, and gets a littler better with a splash of distilled water.  If you can get past the initial nose, It's not a bad little sip, all in all.  However, given the price, you should compare to Jim Beam Bonded for a very similar experience, or 100 proof Knob Creek for a better sip at a somewhat similar price-per-ounce.
ModernThirst.com score: 84 out of 100 points.