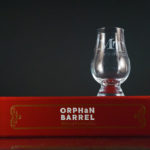 In February, ModernThirst reported on the latest release of Orphan Barrel whiskey from Diageo: The Gifted Horse.  We recently received a sample of The Gifted Horse from Diageo for review.
Now, the whole Orphan Barrel lineup has not been without criticism.  Whiskey aside, there have been a whole lot of people in the blogosphere poke holes in the fanciful back stories and call out Diageo on the entire notion of "orphan barrels."  Virtually every bourbon personality on the internet, as a matter of fact, has taken issue with the strategy at some point…including me.
Nevertheless, I've always attempted to be extremely fair when reviewing the whiskey in the bottles on taste, and not on the story on the label-  Lost Prophet and Forged Oak being the highlights thus far.  So it's with a mix of trepidation and anticipation that I opened the sample provided and poured a Glancairn of The Gifted Horse.
So about that Gifted Horse…
Here's Diageo's explanation:
Some time ago at the historic Stitzel-Weller Distillery in Louisville, Ky., a batch of beautiful 17-year-old Kentucky bourbon was accidentally mixed with barrels of much younger whiskey. This error turned out better than anyone could have expected as the older bourbon wasn't marred, but was transformed into something surprisingly special. Realizing this unique liquid deserved a home, The Orphan Barrel Whiskey Distilling Co.  releases the The Gifted Horse American Whiskey.
Bullshit meter: 7 out of 10.  Let's be honest, if Diageo would just cut out the fiction, the fact we're left with might be taken a lot more seriously.  I can't write it any better than Chuck Cowdery did on his blog on January 23rd.  So I'm not going to try.  Suffice to say, the idea that four year old bourbon and four year old corn whiskey would accidentally get mixed with 17 year old bourbon is just beyond believability.  When you consider that the biggest fault with the weaker Orphan Barrel releases thus far has been that they're too old, and overoaked, and that adding young bourbon and corn whiskey is probably the best way to counteract that, it's too much coincidence to accept.
So let's just assume the story as presented is fiction and move on.
Vital Stats
◾ABV: 57.5% (Proof: 115º)
◾Blend: 38.5% 17 Year Old Bernheim Bourbon, 51% Four Year Old MGP Boubon, 10.5% 4 Year Old MGP Corn Whiskey
◾Producer: Diageo/Orphan Barrel Distilling
◾Bottled at: Tullahoma, TN
◾Price: $50
◾Availability: Limited

What it is:
First off, it's not bourbon.  It's a mix of 17 year old bourbon, 4 year old bourbon, and 4 year old corn whiskey.  At a blistering 115 proof, it marks a departure from the standard 90-ish proof of the rest of, well, everything else Diageo has released.  And kudos to Diageo for that.  It's been one of my biggest complaints of everything from Bulleit to I.W. Harper to Forged Oak.
Packaging: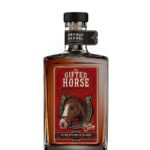 The bottle will be packaged much like the rest of the Orphan Barrel lineup with the Gifted Horse logo and story on the back.  Like the rest of the lineup, I like the presentation.
Our sample arrived in the media presentation container.  It's shaped like an old book, with a cutout inside containing the sample bottle and a nifty bow tie from Knotty Tie Company.  Thumbs up to the presentation here as well.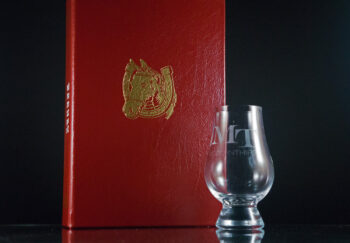 Appearance:
In a Glencairn, the older 17 year bourbon clearly makes its mark, as this pours a deep russet and amber into the glass.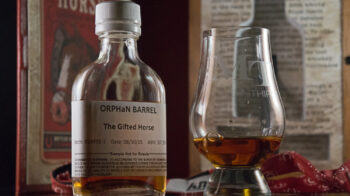 Nose:
This is very unlike the rest of the Orphan Barrel lineup on the nose.  There is heavy caramel underplayed with extremely strong dark red fruits including grapes, black cherries, and blackberries.  The overall theme is sweet…sticky sweet.
Taste: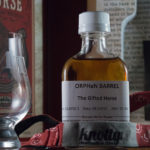 If the goal was to tone down the oak, the addition of 4 year old bourbon and corn whiskey didn't accomplish it.  There is a ton of oak here, right down the middle of the palate.  It's an oiled wood quality, very different from the "wet canoe" profile of Old Blowhard.  It's similar to the profile of Forged Oak, but with the addition of an ethanol character from the young corn whiskey.  I don't like it.  There are other flavors here, too.  There is some caramel, anise, licorice, and corn, too.  But oak is again the centerpiece here.
Finish:
This is a medium to long finish, probably trending more to long than medium.  The tannic oak lingers for quite some time, but this is a whiskey that actually finishes better than it sips, if that makes any sense.  Black pepper and licorice round out the finish, but there is still an oily oak quality to this sip.
Synopsis:
I tried adding water to this to tone down the oak, and it worked to a degree. At 115º, there's plenty of room to add some water.  That actually helps quite a bit, eliminating the oily characteristic, and bringing out the dark, sweet aromas even more prominently on the nose than before.  I hate to say it, but it's possible that the bottling at 115 proof was a mistake, as at closer to 90-95 proof, this drinks pretty well.  That's not to say it's not oaky.  It's still an oak bomb, but not overly so.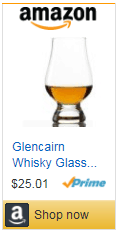 The next question is the price.  At $50, this isn't ridiculously expensive if you focus on that 17 year old number.  The problem is that according to regulations, this is actually a 4 year whiskey.  That's steep.
So where does this rank amongst the Orphan Barrel releases to date?  I'd definitely rank this above Old Blowhard, which I'm sure comes as no surprise to readers.  Lost Prophet, Forged Oak, and Rhetoric (20 and 21 year) are still the pack leaders amongst the Orphan Barrel releases, but it might give Barterhouse a run for its money just because it's more interesting, if considerably less refined.
ModernThirst.com Score: 82 out of 100 points.
The Gifted Horse
A strange mix of whiskeys yielding an over oaked result, this whiskey seems to have a bit of a personality disorder. Adding a hefty splash of water serves to tone down the oak and bring out some fruit notes and sweetness. Best to try this before buying.