Maker's Mark
While bourbon geeks dismiss it, and those who like spice might be left wanting more, this is a fine, readily available wheated bourbon. It won't blow the doors off most tasters, but its approachable, consistent, and inoffensive.
Vital Stats
◾ABV: 45% (Proof: 90º)
◾Mash Bill:70% Corn, 16% Wheat, 14% Barley
◾Barrel Entry Proof: 110
◾Producer: Maker's Mark, Loretto, KY
◾Price: $25.99
◾Availability: Readily Available

What it is
An icon.  Let's face it, if you're not familiar with the red wax and cordial-like bottle, you've lived in a cave.  Maker's Mark is the seminal entry level offering into the realm of premium bourbons.  It's marketed widely across a number of mediums, and on shelves everywhere from drug stores to high end whiskey shops.
But it's not always well respected amongst the bourbon geek community.  The simple availability of it, and the exposure due to its marketing has made it seem a little bit cliché.  Some will argue that it's slightly one dimensional, and thin on the palate.  Others will argue that, as a wheater (where the secondary grain in the mash bill is wheat, rather than rye), it's too sweet and lacks the spice many prefer in the bourbon.
Nonetheless, it's one of the iconic bottles in the industry, and it's high-time ModernThirst reviewed it.  Now, the real comparison here isn't how it will stack up to other bourbons in its price range.  It's different than most of those.  The real test is how it stacks up to other WHEATERS in its price range, which definitely narrows the field a touch.  That puts it in rarer territory, marking it in line with W.L. Weller Special Reserve, Old Fitzgerald, and Larceny.  This is not age stated, and bottled at 90 proof.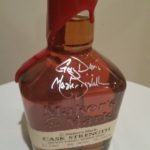 History
Maker's Mark Distillery can trace its roots to 1805, when Charles Burke built his facility just outside Loretto, KY.  It closed during prohibition but was reopened shortly after repeal.  It changed hands several times over the next 30 or so years until 1953 when it was purchased by T. W. "Bill" Samuels IV, whose family renamed it to Maker's Mark in 1957, and owned the distillery until it was sold in 1981.  In 2005, it was purchased by Jim Beam Distillers, and is still owned by Beam-Suntory today.  Bill Samuel's son followed him as CEO of Maker's, and his son, Rob, is CEO today  The current Master Distiller is Greg Davis.
Packaging
There's no denying that Maker's Mark has the most distinctive bottle in the business.  They own a trademark on the red wax, and any advertisement for any product dripping with the iconic red wax is instantly recognizable as a Maker's Mark promotion.  Aside from the screw-top under the wax, this is a recognized classic packaging.
Appearance
Maker's Mark pours a light straw into a Glencairn Glass.
Aroma
Light woody flavors greet the nose.  There are hints of vanilla, cinnamon, and caramel just underneath.  It's a light aroma, very sweet.
Flavor
True to the nose, this is light and sweet.  It's heavy on baking spices- cinnamon, nutmeg, cloves.  Oak plays only a small part on the mid palate, while sweet simple syrup and vanilla finish off the back of the palate.   Only mildly viscous on the tongue, this lacks a little of the creaminess one might hope for with an older wheater.
Finish
Short to medium in length, but pleasant.  There are some sweet spices that linger on the rear palate, namely cloves and cinnamon, but by and large, this is a crisp finish.
Synopsis
The real complaint most bourbon geeks have with Maker's Mark isn't really what's in the bottle.  It's overexposure.  Being a rabid fan of Maker's mark is like being a rabid fan of Coca Cola.  It's sort of the popular baseline for bourbon, not a diamond in the rough or a rare gem.
Nonetheless, it's a solid sip.  It's sweet, light, and extremely easy to drink.  It makes a fine cocktail, and it's affordable.  As far as other wheaters in its price range, it's very competitive, perhaps even superior to standard Weller Special Reserve, and clearly superior to the 90 proof Old Fitzgerald.  If you're not into sweet whiskey, you'll want to look elsewhere. There's no spiciness to this (you might consider Maker's 46 if that's what you're looking for).  But if wheaters are your thing, Maker's Mark is perfectly suitable as an everyday sip.
ModernThirst.com Score: 86 out of 100 Points.
*Click here to read about our scoring system*