Maker's Mark Private Select LB #2
Unique, spicy, and sweet all at the same time. Maker's Mark's new Private Select program is off to a great start, and Liquor Barn in Louisville at Springhurst has a hit on their hands with Barrel #2.
Has any other label transformed themselves as completely as Maker's Mark over the past two years?  Aside from the Four Roses rise from the Ashes of export-only status, Maker's Mark has stepped up to the plate big-time since the release of Maker's 46 back in 2010. Maker's Mark sat a little silently on the sidelines while private selections, limited releases, and all sorts of variations on the standards were released to much hype by every distiller and everyone with the bank account big enough to call themselves a whiskey producer on the planet.
Then Maker's Cask Strength hit.  Then Maker's 46 Cask Strength.  Now the Private Select program.  As friend of this site, Ben Durant, says, "Cask Strength is what Maker's should have been all along."  I can't argue that.
The Maker's Private Select program allows participants to choose the extra staves that will be placed in their barrel for additional aging and finishing.  Similar to the theory that created Maker's 46, this allows participants to custom-tailor a barrel of Maker's Mark to their liking.  It's incredibly unique.  Participants can chose 10 staves divided amongst 5 different types of wood-
Oaked American Pure 2
Seared French Cuvee
Maker's 46
Roasted French Mocha
Toasted French Spice
Thanks to Liquor Barn at Springhurt manager, Ray Perryman, I was able to purchase a bottle of the retailer's second barrel selection and also try their first at the tasting bar (which is fantastic in both selection and price, I might add).  I'll give a quick synopsis of my tasting notes on barrel 1, and go more in depth on the bottle I was able to take home and try.  The cost was $74.99 for the bottle.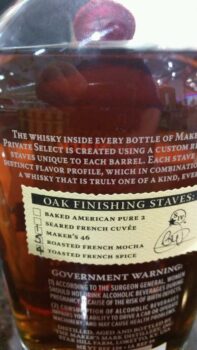 Barrel 1 was 110.1 proof.  It was chosen with 1 Maker's 46 stave, 5 Roasted French Mocha, and 4 Toasted French Spice staves.
On the nose, the smell of chocolate milk and deep, rich velvety cocoa are utterly unmistakable.  On the palate, that flavor carries through and was quickly followed up by warm sweet spices.
It was perhaps the most interesting new bourbon I've tasted this year.
Maker's Mark Private Selection Barrel #2
They took a slightly different approach to this one, selecting 4 Oaked American Pure 2 staves, 4 seared French Cuvee,1 Roasted French Mocha, and 1 Toasted French Spice stave. It is 55% alcohol, or 110 proof.
Packaging
The packaging is similar ot the Maker's 46 bottle, with the iconic red wax and a screen printed label.  The Private Selection label is right on the front ,and a second label detailing which staves were chosen is on the rear.  Very attractive.
Appearance
This is a dark bourbon, and the sediment from the barrel proof format is plainly evident in the bottom of the bottle.
Nose
There is a lot of wood on the front of the nose on this one.  Some sweet vanilla flavors seem to lurk underneath, but that wonderful French mocha aroma is hinted on the tail end, and makes for a very pleasing scent.
Taste
And this one delivers.  Where Barrel #1 is a showcase of the mocha characters, this barrel takes traditional wood notes and elevates them.  There is a ton of oak and sweet spice on the front of the palate, and it follows up with sweet caramel and vanilla with that hint of mocha on the tail end.  It has a very viscous and coating mouthfeel, and is a pleasure to sip.
Finish
Medium to long, this bourbon finishes with that spicy, sweet wood character and hints of mocha.  It never develops black pepper spiciness, which makes sense as there is no rye in this mash bill, but it makes up for it with a different kind of smoother, sweeter spiciness from the wood staves.  Very nice.
Synopsis
This is a great bourbon.  The two barrels are at once completely different, and yet very similar at the same time.  I guess that's what "finishing" bourbon does…it takes a similar DNA and adds to it without taking away form the base that makes Maker's what it is.  If forced to choose, I'd pick barrel #1 and be a happy man.  But Barrel 32 is no slouch, and so very different from what is being released elsewhere that it's a pleasure to sip.  If these are any indication of where Maker's is heading in the future, then Rob Samuels and team are heading in the right direction.  And if those local to Louisville are looking for a hub around which to center their bourbon experience, Liquor Barn at Springhurst has done a great job at picking barrels, and also providing a fantastic selection and value tasting bar (Barrel #1 was $3.80 per pour.  Try to match THAT at a bourbon bar.)
*Special thanks to manager Ray Perryman*
ModernThirst.com Score: (LB Barrel #1) 93 out of 100 points.
ModernThirst.com Score: (LB Barrel #2) 92 out of 100 points.
*Click here to read about our scoring system*