A sample of Booker's Rye was provided to ModernThirst by Jim Beam for this review 
with no strings attached.
---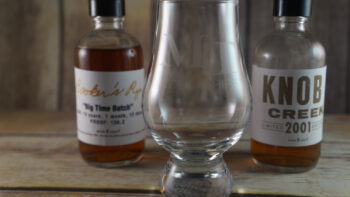 Thus far, Jim Beam has wowed us this year with a special limited release whiskey in Knob Creek 2001.  One might assume they were done with the limited releases for the year, or at least until the holidays.  Not so.  If Knob Creek 2001 was Jim Beam's ode to Fred Noe- a release of the very first barrels he laid aside on his first assignment at Jim Beam, Booker's Rye is an homage to Booker Noe…some of the last rye barrels he laid aside.
What it is:
Booker's Rye is a rye whiskey of a mash bill Jim Beam has never utilized before, consisting of at least 70% rye, if not higher.  It was barreled in 2003, and is aged 13 years, 1 month, and 12 days.  It is bottled uncut and unfiltered, and at barrel proof  in the tradition of Booker's.  That places it at a tongue blistering 136.2º, or 68.1% alcohol.  Let me repeat that: 13 year old 68.1% ABV Rye Whiskey.  Unfiltered.  Yes, please.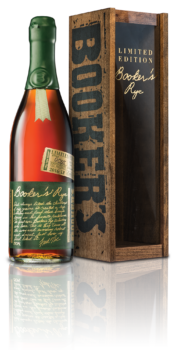 Packaging:
If Booker's Bourbon doesn't already wow you with its bottle and nicely made wooden box, I don't know what to tell you.  You may simply have no soul.  Booker's Rye follows suit with a nice green take on the Booker's theme and that great wooden box that stands out perfectly on a bourbon shelf.
Appearance: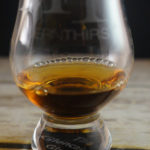 Dark brown with glint of amber and red, this is a dark, murky, gorgeous pour of whiskey.
Aroma:
A knock out.  The standard rye characteristics are there- some fruit, black pepper, oak, some earthy tobacco notes, and throughout runs an underlying current of ripe bananas.
Taste:
WHOA BABY!  This thing hits the palate like a ton of bricks.  Heavy black pepper up front with oak and tannins giving way to leather and ripe bananas on the mid palate.  The back of the tongue gets a tingly dose of cloves and spice.  Be warned, the alcohol is present and accounted for, and it takes a moment to get into the more delicate flavors of this expression.  But they're there.  I splashed my second taste with some distilled water, and it brought out surprising notes of cocoa, caramel,  and vanilla on the back of the tongue.  Super Complex.
Finish:
As you might expect form an unfiltered and barrel proof whiskey, this one stays with you.  Tour guides at Jim Beam like to talk about the "Kentucky Hug;" the warmth that you get in your chest after you swallow.  There may be no better example of it that this.  The finish lasts forever.  Black pepper and citrus seem to dominate the finish with oak and tannin playing a prominent role as well.
Synopsis: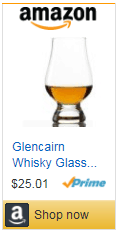 I'll admit that I'm already a fan of Booker's bourbon.  In theory, it's exactly what I want.  It's unfiltered, barrel proof, and reasonably priced while being pretty easy to find at decent shops.  Booker's Rye meets some of those.  It fails on availability and price, but that's the way of things in today's bourbon climate.  I'm usually not a huge fan of rye whiskeys.  I like them, to be sure, but I'll almost always choose a bourbon over any rye, any day of the week.  This one is different.  The best way I can explain it is that it's the most "satisfying" rye I've had in a long time.  Home run for Jim Beam as to what's in the bottle.  As for the price, at $299.99, well, I hope readers have deep pockets, because you'll pay for the privilege of drinking it.  If you can swing it, grab a bottle, break it out on special occasions, and remember the greatness that is Booker Noe.
ModernThirst.com Score: 94 out of 100 Points.
Booker's Rye
Like a warm hug, Booker's Rye lures you in with its intoxicating aromas and beautiful depth of color. Then, it smacks you in the face with layers of bold flavors and a finish that never quits. Booker's Rye is everything you would expect from a whiskey with Booker's name on the label.
If your wallet can handle the hit, I recommend it.