So you've got a special dad in your life…he likes bourbon.  Or maybe the dad in your life wants to learn about bourbon.  Or maybe you just want to give a dude a bottle of whiskey.  Whatever.
Here are ModernThirst's suggestions for some Whiskeys you can likely find in a decent liquor store that make great Father's Day gifts for the Dad in your life, plus one or two other possible gifts you can still order and get in time for the weekend:
---
Blanton's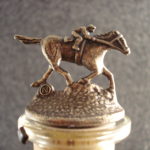 Price: $60-65
Best For: Anyone
Why: Because it's damn tasty, that's why!  Also, because it's a classic in the realm of premium bourbons, and comes in one of the best and most iconic packages in the biz.  It looks great on a bourbon shelf and there shouldn't be a novice or expert bourbon geek in the world who wouldn't appreciate it.
---
Booker's
Price: $55-60
Best For: Bourbon lovers who like strong, powerful bourbons.
Why: Like Blanton's the packaging makes a great gift.  Unlike Blanton's, Booker's is a barrel proof behemoth, clocking in regularly above 120 or even 125 proof.  It's pretty easy to find, and will be appreciated by dads who prefer the punch of stronger bourbons.
---
Knob Creek
Price: $30-35
Best For: People who like bourbon, but aren't well versed past a couple of labels.  Or for those who don't have a ton of money to spend on a gift.
Why: Another Jim Beam offering, Knob Creek is  sort of the "perfect" bourbon to have around the house, among others.  It's got a wide name recognition, so most people have at least heard of it.  It's not overly expensive, so you shouldn't be aghast if a guest pours it over a cola, and it's a 100 proof, 9 year old bourbon, so it's got the chops to be a solid sipper for even the most discerning bourbon drinker.
---
Basil Hayden's
Price: $41.99 MSRP
Best For: introducing a Scotch drinker to Bourbon.
Why: Basil Hayden is yet ANOTHER Jim beam product on this list, but unlike the others, comes from Beam's High-Rye mash bill.  And unlike the others, it's bottled at only 80 proof.  This makes for a very light, fruity bourbon that almost tastes like a rye whiskey on the palate, and makes for a great introduction to the world of bourbon from those coming from the smoky, peat-filled world of Scotch whisky.  Oh yeah, it comes in a cool package as well (sensing a theme here?)
---
Evan Williams Single Barrel Vintage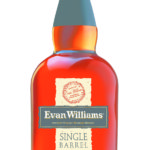 Price: Around $30
Best For: Those who don't have a lot of money to spend.
Why: The Evan Williams Single Barrel Vintage line is somewhat lesser known to those who aren't really into bourbon, but there's no real good reason for that.  It's between 8 and 9 years old, and has a typical oak-forward Heaven Hill profile at a very reasonable price.  There's a chance this will be an eye opener to newer bourbon geeks, and if not, they'll definitely appreciate it.
---
Glencairn Glass
(Click photo for purchase——->)
Price: $20 for a set of 4.
Best For: Any whiskey drinker who doesn't have one or more already.
Why:  It's the standard tasting glass for whiskey.  Unless the dad you're buying for doesn't drink his whiskey without ice…in which case, look for:
---
Ice Sphere Molds
(Click photo for purchase——->)
Price: $11 for two
Best For: Anyone who drinks their whiskey on the rocks
Why: The big ice spheres melt slower than smaller cubes, meaning their whiskey won't get watered down as quickly.  Plus, they look really cool.