It's been a while since we posted our last alcohol-inspired recipe, Nacho Bait Habanero Blonde Beer Cheese, but we're back!  this time, I've got something that will put a little hair on your chest.  It's a Carolina-style peach barbecue sauce with bourbon and H-O-T peppers.  If you make it the way I did, it will light you up, guaranteed!  All you need is the ingredients, a sauce pan, and a food processor or blender.
You can really use any hot peppers for this recipe, but I used two Golden Cayennes and 2 Orange Habaneros.  Golden Cayenne peppers tend to be slightly hotter than their standard cousins, and range from 30,000 to 50,000 Scoville units (a measure of heat).  That's hot, but not face-melting.  Orange Habaneros range from 100,00 to 350,000 Scoville Units.  That's Face Melting.  So be warned, if you use the same peppers I did, this will be hot.  Not Frank's Red Hot Sauce mildly hot, and not Sriracha decently hot…really H-O-T.  If spicy heat is not your thing, back off to just one or two cayenne peppers, or even use a teaspoon or two of ground cayenne for just a  touch of heat instead.  And just a tip: you may want to wear latex or plastic gloves when slicing hot peppers.
ModernThirst Hot Pepper Bourbon Peach BBQ Sauce
Here's what you'll need (makes right around 750-800ml):
3-4 Fresh Peaches, skinned, with pits removed and cubed
1/2 large sweet onion, chopped or diced
1/2 Cup Apple Cider Vinegar
2 garlic Cloves, Minced
3 Tablespoons cooking oil (I used canola)
Hot peppers (see above)
1/2 Teaspoon salt
1/3 cup bourbon (I went with a wheated bourbon for the sweeetness.  I used W.L. Weller, but Larceny or Maker's Mark will do fine.)
1 Tablespoon Brown Sugar
4 Tablespoons Honey
1 Tablespoon Powdered Mustard (I used Coleman's)
1/2 Teaspoon Black Pepper
1 Teaspoon Cinnamon
Directions:
Heat the oil in a saucepan and add the onions, garlic, and sliced peppers. After about 5 minutes, the onions should be mostly translucent.  Add the peaches, brown sugar, salt, bourbon, and vinegar.  Stir occasionally for about 5 minutes, and add the remaining ingredients.  Cook for about 20 more minutes until the peaches are soft.  Remove from heat and let cool for 5 minutes.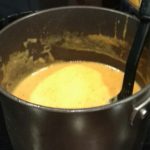 Pour the entire contents into the blender/food processor and puree to a smooth consistency like barbecue sauce.   Return the mixture to the heat for 5 more minutes, tasting regularly.  Add honey or vinegar to taste if too hot.
Place in an airtight container (bourbon bottles work perfectly.)  Store up to 10 days in the refrigerator.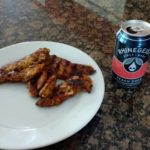 Use with: Chicken, pork
Pair with: Rhinegeist Peach Dodo
---
ModernThirst Hot Pepper Bourbon Peach BBQ Sauce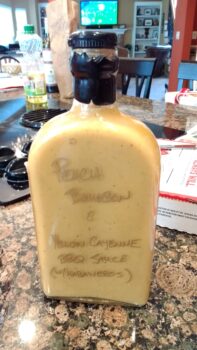 Got any other liquor or beer based recipes you'd like featured on ModernThirst?  Tweet us photos, or send them to [email protected]