September should be a busy month for all you Old Forester aficionados.  The annual release of Old Forester Birthday Bourbon is due along with the 3rd in the Distillery Row Series, a 115 proof "Prohibition" style bourbon called 1920 Prohibition Style.
---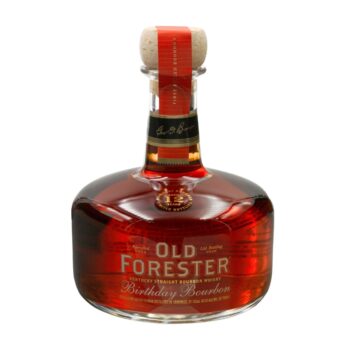 Old Forester Celebrates 15th Anniversary of Birthday Bourbon
LOUISVILLE, Ky., Aug. 10, 2016 /PRNewswire/ — This September, Old Forester Kentucky Straight Bourbon Whisky, America's First Bottled Bourbon™, will introduce its 15th Anniversary release of Birthday Bourbon, the annual limited-edition expression was created to pay homage to founder George Garvin Brown's birthday on September 2nd.
The 2016 Birthday Bourbon expression is offered at 97 Proof, jointly determined by Brown-Forman Master Distiller Chris Morris and Old Forester Master Bourbon Specialist Jackie Zykan. This year marks Zykan's first involvement with the Birthday Bourbon release since joining the brand in 2015.
"In 2002, when we first introduced Birthday Bourbon, the market for premium Bourbons was almost nonexistent; Birthday Bourbon represented a 'first' in this category.  But 15 years later, global interest for premium Bourbons and well-crafted whiskeys is at a record high," said Master Distiller Chris Morris. "We're proud to have been a part of this story – not just over the last 15 years, but since George Garvin Brown founded America's First Bottled Bourbon in 1870."
Each barrel in the Birthday Bourbon selections annually are drawn from the same day of production, this year's on June 4, 2004, leading to the 'vintage-dated' reference. The 2016 release of 93 barrels uniquely matured together on the 5th floor of Warehouse K at the Brown-Forman Distillery in Louisville, KY. The lot was positioned near a window facing west allowing them to be sun kissed, yielding a deeper oak mouthfeel. This warm location provides this year's release with a deep, rich, oak forward personality. Old Forester Birthday Bourbon is bottled in a unique decanter style glass as tribute to the late 1800's when Old Forester was first produced. Beginning in September, the 2016 Old Forester Birthday Bourbon will be on shelves with a suggested retail price of $79.99.  2,400 (six bottle) cases will be available for purchase nationwide. This is a largest quantity of Birthday Bourbon ever bottled.
2016 Old Forester Birthday Bourbon Tasting Notes
Tasting Remarks from the Master Bourbon Specialist: "It starts off as soft butterscotch with candied orange peel. It transitions into a creamy vanilla in the middle and finishes with subtle anise and moderate spice. It's like eating black jelly beans in the middle of an orange grove," said Jackie Zykan, Old Forester Master Bourbon Specialist on the 2016 Old Forester Birthday Bourbon.
Tasting Notes from the Master Distiller: Color Deep reddish umber Nose Complex and cinnamon wood spiced with nutty chocolate, dark caramel and rich oak notes all brightened with a dash of crisp citrus fruit. Taste Mulled spice sweetness and fruity with bright citrus peel highlights. Finish Long and warm with mulled fruit character lingering on.
For downloadable images of Birthday Bourbon and additional content please visit here: http://www.oldforester.com/press Images include the proofing of the product in the lab with the Master Bourbon Specialist and Master Distiller, rendering of the bottle and hand labeling of the bottles in production.
About Old Forester Bourbon: Old Forester is Brown-Forman's founding brand, founded in 1870 by George Garvin Brown. Brown believed Old Forester was so pure and consistent that he sealed it, signed it, and pledged "There is nothing better in the market.
Please sip responsibly. Old Forester Straight Bourbon Whisky, 48.5% ABV, Brown-Forman Distillers Company, Louisville, KY ©2016
SOURCE Old Forester
---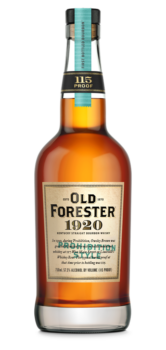 The 3rd release from the Distillery Row Series is also due in September.  This one will be a "prohibition style" (whatever that means) bourbon at 115º.
Tasting Notes from Master Distiller Chris Morris and Master Bourbon Specialist Jackie Zykan
Color: Rich, chestnut red.
Aroma: An intense medley of cherry preserves, drippy caramel, dark chocolate, thickened maple syrup and seasoned oak spiciness.
Flavor: Dark caramel coats layers of malt nuttiness and sweet graham cracker all warmed by green peppercorn and coriander spice brightened with a hint of cedar.
Finish: Tart apple crispness gives way to a long smoky finish full of toasted marshmallow, chocolate and graham cracker sweetness.
MSRP: $59.99