You may recall that I broke some news on Bill's Blog back in July that Luxco would be releasing a Single Barrel version of Rebel Yell, the iconic wheat-recipe sourced bourbon.  And news flash: It's good.  How can it not be?  10 Years Old, Wheated Recipe, 100 proof…sourced from the least kept secret in town (rhymes with "Kevin Mill"). Well, it's coming…and soon.  We'll have a review posted here and more info as it comes available!
Press Release:
(St. Louis) September 6, 2016 – Rebel Yell® Kentucky Straight Bourbon Whiskey has introduced Rebel Yell® Single Barrel, meticulously aged for a full 10 years and bottled one barrel at a time at 100 proof.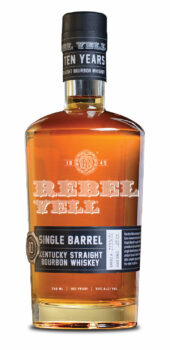 This hand-bottled wheated bourbon will be available nationwide in limited quantity – 2,000 cases – in September, and 4,000 cases are planned for 2017.This ultra-premium bourbon is robust in flavor with a mature finish and hand-bottled for a uniquely rebellious experience. By being bottled barrel-by-barrel, each bottle will have a unique flavor profile — depending on how it aged, where in the rickhouse it was placed and the flavors that developed within that barrel. In addition, each bottle includes the barrel number and an "aged since" date on the silk-screened front label. Each bottle, complete with a premium matte finish closure and natural wood cork, is sold in individual boxes.
"We are excited to take the classic Rebel Yell recipe and age it 10 years, creating a robust and complex finish," says Fletcher Buchman, brand manager at Luxco. "By bottling each barrel independently, we are creating a unique flavor profile specific to each batch. Some bottles may have a stronger vanilla and caramel flavor, some may favor more oak and wood tones, others may have more floral or tobacco notes, creating a unique tasting experience that may vary from bottle to bottle."
Rebel Yell Single Barrel will be available in 750 ml bottles and offered at a suggested retail price of $49.99 (100 proof/50%ABV). For more information on Rebel Yell and its product lineup, visit www.rebelyellbourbon.com.
For more information on the brand's loyalty program, Band of Rebels, fans can sign up atwww.bandofrebels.com.
About Luxco
Luxco, Inc. is a leading producer, importer and marketer of beverage alcohol products. Our mission is to meet the needs and exceed the expectations of our consumers, associates and business partners. Founded in St. Louis in 1958, where it is headquartered, it is owned and operated by the Lux family. Its portfolio of brands include: Juarez Tequila & Triple Sec, PearlVodka, Everclear Grain Alcohol, Arrow Cordials, El Mayor Tequila, Ezra Brooks & Rebel Yell Bourbons, Lord Calvert Canadian Whisky, St. Brendan's Irish Cream, Salvador's Cocktails, Yago Sant' gria and other well-recognized brands. For more information about the company, visit www.luxco.com.