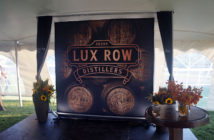 Luxco Company president and COO David Bratcher and Chairman/CEO Don Lux met with locals, civic leaders, and media in Bardstown to reveal the name of their forthcoming distillery yesterday during the Kentucky Bourbon Festival. Lux Row Distillers pays homage not only to the Luxco heritage, but the property on which the $30 Million distillery is being constructed.
Founded by Chairman Don Lux's father and grandfather in 1958, the Lux name has been deeply involved in the spirits industry, including bourbon and whiskey for decades.  "Lux Row" pays homage to that name, and recalls the picturesque tree-lined drive into the facility from Kentucky Highway 245.
"If you come up the front drive, there's a long, winding row of trees," Lux said. "It's kind of a working class yet authentic and historic name."
Luxco broke ground on the distillery in May.
"We're a little behind schedule because of all the rain this summer," Lux explained. "We're a week or two behind, but we're still on schedule for 4th quarter of next year to start distilling."
Lux Row Distillers will boast a 36 inch Vendome Copper column still capable of producing 20,000 gallons per year at launch, with the ability to expand well past that.  It will employ 36 people initially, with 5 rick houses and a visitors' center on site.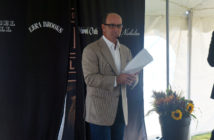 The initial plans are to support the company's existing brands such as Rebel Yell, David Nicholson, and Blood Oath from the distillery before expanding to new products and labels. Those brands are currently supplied under contract with other distilleries such as heaven Hill and Jim Beam.  With the current explosion of demand in bourbon, other distillers are finding it harder and harder to meet their own demand and also distill on contract for independent bottlers such as Luxco.  There is also a demand among the bourbon consumer base for authenticity from their whiskey.  Those factors helped drive company president David Bratcher to push for the construction of Luxco's first distillery, where they will be able to fulfill their own product needs internally without relying upon third party producers.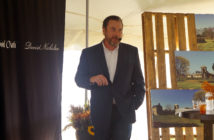 "This has really been transformational for Luxco," Said Lux. "Because we're going from just another bottler or processor who owns some valuable brands to someone who is actually distilling.  It's very important to today's consumer.  We think it's part of the authentic story.  While it's more money than we've ever spent on any capital project, it feels really cool and really authentic,and we're super excited."