2016 Four Roses Limited Edition Small Batch
Decadently sweet with plenty of rye spice, Four Roses continues its amazing streak of fantastic releases in this line.
*Special Thanks to Chip D. for acquiring this bottle.*
What it is
The granddaddy of the Four Roses lineup, the Limited Edition Small Batch is amongst the most sought after releases each year.  Limited to under 10,000 bottles, the 2016 variant is a mixture of 12 year old OESO recipe, 12 year old OBSV recipe, and 16 year old OESK recipe.
This is the first Small Batch Limited Edition released since the retirement of long-time Master Distiller, Jim Rutledge.  And while Brent Elliott is the Master Distiller today, this is still a combination of bourbons distilled under Rutledge's watch.
2016 Four Roses Limited Edition Small Batch Stats
55.6% ABV (111.2°)
Style: Straight Bourbon
Mash Bill: Combination of three Four Roses recipes
Recipes: OESO (12 years), OBSV (12 years), and OESK (16 years)
Age: 12 Years
Availability: Limited
Bottle # 48 of 9,258 total bottles
MSRP: $100/750ML
Producer: Four Roses, Lawrenceburg, KY
Appearance
Reddish Amber
Nose
The first whiff from a Glencairn is strong bananas, but there is an underlying sweetness from caramel immediately as well.  Behind that, there are notes of  oak, vanilla, peaches, and apricots.
Palate
Sweet fruits dominate the front palate with , oranges, cherries, and peaches.  The mid palate is hit with smooth  oak, The rear palate gets  rye, black pepper underplayed with a decadent white vanilla bean and custard note that adds a rich creaminess to the palate.
Finish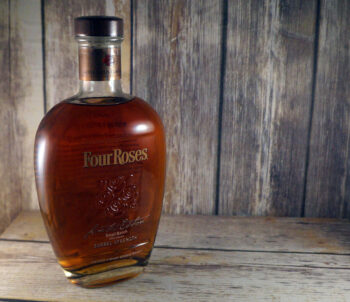 This is a long finish, but it is devoid of bitterness.  There are strong  peppery flavors with the vanilla custard notes lingering.
Synopsis
Easy drinking and decadently sweet, this is classic Four Roses.  The OESK plays strongly on the nose with lots of banana, and adds to the custard sweetness on the finish as well.  All in all, this is a very interesting sip in the juxtaposition of spice versus sweet, as both sensations are prominent, and yet don't compete with each other in the glass.  One of the better releases of the season.
ModernThirst.com rating: 93 out of 100 points.