2016 Old Forester Birthday Bourbon
Surprisingly fruity, Brown-Forman's 15th release of Old Forester Birthday Bourbon is a worthy addition to the lineup. With complex flavors and a crisp finish, it's an easy drinking 97 proof bourbon.
*Special thanks to Chip D. For acquiring this bottle*
What it is
2016 marks the 15th release of Old Forester Birthday Bourbon.  Birthday bourbon is released every year on or around September 2nd to mark the birthday of brand founder George Garvin Brown.  It's a 12 year bourbon that has grown immensely in popularity each year, becoming one of the more sought after releases.
The 2016 edition, like previous releases, is 12 years old and 97 proof.  All the barrels are chosen from a single day of production, and company literature states these barrels faced a west-side window on the 5th floor of warehouse K, allowing them direct sunlight during aging.
2016 Old Forester Birthday Bourbon Vital Stats
Packaging
The bottle is the same as other releases in the line.  It's a short, round bottle with tall neck and over sized cork.  It's a very nice presentation.
Appearance
Deep, dark brown with reddish tones.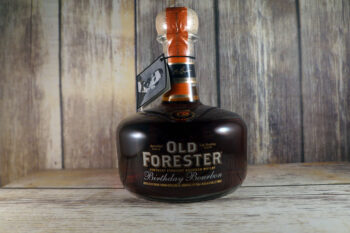 Nose
I was struck by the amount of citrus and orange zest on the nose after letting the whiskey rest in a Glencairn for a few minutes.  But it's not a one dimensional aroma.  A decided bubblegum aroma is present, and there are plenty of oak notes, some bordering on freshly sawed lumber.  There is a hefty dose of walnuts and cashews as well, making this a very complex nose.
Taste
The front palate gets a dose of banana and nuts- almost like a nut bread.  But a peppery rye spice laced with lemon citrus hits the mid palate with dark fruits like black cherries and prunes.  A trailing underlying current of oak and baking spices gives way to notes of semi-sweet baking cocoa.
Finish
While it doesn't qualify as short, it s a medium length-to-dry finish that is marked by the rye pepper and citrus mingled with oak.  It's extremely pleasing and leaves the palate eager for an other sip.
Synopsis
Some have argued that the quality of the Birthday Bourbon lineup slipped in recent years.  I wouldn't necessarily agree with that, but there have certainly been some releases that seemed better than others.  This is a good one, but I think I still prefer 2011 and 2014 over this.  Still, it's a really nice sip, and more than deserving of the Birthday Bourbon lineup.  I have always said that Old Forester is one the the more underappreciated mash bills, and 12 years of age does very good things to it.  I feel like 12 years is right on the cusp of the maximum amount of time this could have spent in the barrel before deteriorating into a woody mess, and as such, Old Forester fans should really like it.
One note that should give pause to buyers: the MSRP on this whiskey has nearly doubled over the past 5 years or so, and while that's common across American Whiskeys in general, I'm not sure that it's warranted for a 12 year old whiskey.  If you can find this at MSRP or close to it, I do recommend it.  But unless you're a collector, I'm not sure the flavor warrants paying much more at secondary market prices.
ModernThirst.com score: 90 out of 100 Points