[amazon_link asins='B00H143UXW,B06Y1VGMH2′ template='MT-product-carousel' store='modernthirstc-20′ marketplace='US' link_id='3c84b615-faee-11e7-bb1a-779ece4c41ff']In June of this year, I reviewed the then-recently released 1792 Full Proof.  I really liked it ,rating it a 91 overall.  This month, The Bourbon Society in Louisville offered their barrel selection of 1792 for sale to members.  I couldn't help myself, and am happy to report on the results.
For more information on 1792 Full Proof, check out my review from June:
In the meantime, this is a private barrel selection chosen by The Bourbon Society. I tasted this side-by-side with the standard bottle I reviewed before.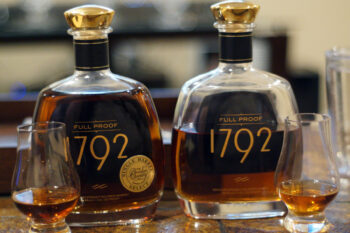 1792 Full Proof Vital Stats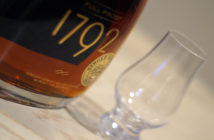 ◾ABV: 62.5% (Proof: 125º)
◾Mash Bill:75% Corn, 15% Rye, 10% Barley
◾Barrel Entry Proof: 125
◾Barrel Char Level: #3.5
◾Age: Not Stated (8 1/2 years according to literature)
◾Aged in warehouses E, N, I
◾Producer: Barton 1792
◾Price Paid: $38
◾Suggested MSRP: $44.99
◾Availability: Private Barrel Selection ( Selected by The Bourbon Society)
Appearance
The Single Barrel selection is noticeably darker than the standard bottle.  It's deep mahogany.
Nose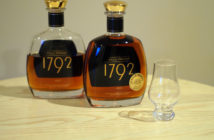 On the single barrel, the ethanol is clearly more present, but there is a powerful burst of  sweet cinnamon and gingerbread flavors underlaced with vanilla and caramel beyond that.
Taste
Markedly sweeter on the single barrel.  It's more alcohol-forward as well, but the brown sugar and gingerbread notes explode out of the glass on this one.  It's decadent.  It's similar to the standard bottling in that the same flavors are present, but they seem more concentrated and more intense on the single barrel.
Finish
Like the standard bottle, this is a medium finish, making this a sweet, satisfying sip that shows a little age and oak on the tail end.  I don't get much cocoa in the single barrel, as I did in the standard bottling, but the intense sweet cinnamon is more pronounced
Synopsis
In the earlier review, I lamented that I wasn't getting quite the experience I remembered from tasting 1792 straight form the barrel.  I nearly found it with this single barrel selection.  This is decadently sweet and wonderfully satisfying.  It's a clear step up from the already excellent standard Full Proof bottling, making this one of my favorite tastes of the year to date.
ModernThirst.com Score: 94 out of 100 points.