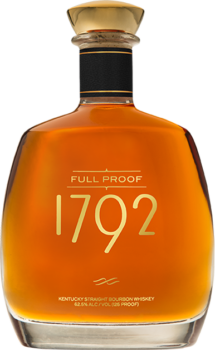 *Special Thanks to Ray Perryman at Liquor Barn Springhurst in Louisville for making this review possible.  Ray manages one of the biggest and best liquor stores in Kentucky, and his store boasts one of the finest tasting bars in the city.*
In February of 2014, I had the good fortune to attend a media tour of the Barton 1792 Distillery with a number of other bloggers, writers, podcasters, and general bourbon know-it-alls.  While there, we were allowed to draw whiskey from an 8 year old "Sweetheart" barrel (Barreled on Valentine's Day in 2006) and taste it in the welcome center.
It blew us away.  It was deep and rich, and completely outshined my flask of Elijah Craig Barrel Proof, another personal favorite.
Since then, a number of us from that group have inquired with Barton, hinted, and generally debased ourselves begging the powers that be in Bardstown to release a barrel proof version of 1792 to the public.  It has finally happened.
What it is
This is a non-age stated version of 1792 (Formerly Ridgemont Reserve).  It is 62.5% Alcohol by Volume, which makes out to 125 proof, if my math serves.  Now, for those of you checking at home, it does, in fact, seem odd to get a nice round number on all these if it's truly barrel proof.  That's because it's not.  Not really anyway.
It's proofed down to the original barrel proof- the proof of the distillate that went into the barrel, not the proof at which it came out.  It's no doubt filtered, and therefore slightly lower in proof than a true barrel proof.  That's slightly disappointing.  Still, it's the standard Barton recipe containing a slightly higher rye-to-barley proportion of 15:10.
1792 Full Proof Vital Stats
◾ABV: 62.5% (Proof: 125º)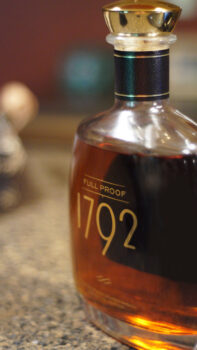 ◾Mash Bill:75% Corn, 15% Rye, 10% Barley
◾Barrel Entry Proof: 125
◾Barrel Char Level: #3.5
◾Age: Not Stated (8 1/2 years according to literature)
◾Aged in warehouses E, N, I
◾Producer: Barton 1792
◾Price Paid: $50.00
◾Suggested MSRP: $44.99
◾Availability: Limited Release
Packaging
This comes in the standard 1792 cordial-like wide, short bottle with gold cap.  The "full proof" is denoted above the standard 1792 label.  It's understated, but attractive.
Appearance
Dark and brown, but very clear.  It's obvious this has seen some filtering.  *Edit: According to reports, this is not chill filtered, but passed through plate and frame filters.
Aroma
There's plenty of caramel and a hint of vanilla immediately on the nose.  There aren't a ton of oak aromas, but then again, this is probably in the 7 year range, so I wouldn't expect it to smell like a long-aged bourbon.  But there is a lot of complexity going on nonetheless.  There are a lot of sweet notes here, reminding me of savory bakery items like coffee cake, cinnamon rolls, and icing.  There's even a hint of chocolate.
Taste
Unlike a lot of other higher proof bourbons, this doesn't smack you in the face with overt alcohol and ethanol.  There's really no ramp up to this at all.  Just drink it like you would any other 100 proofer, and you won't be disappointed.  On the tongue, there is an initial hit of cinnamon and spice, with a note of caramel as well.  But the caramel doesn't fully develop to the mid palate, instead giving way to more sweet and spicy notes like cloves and brown sugar.  And then, as reported by a few other tasters, there's a definite punch of something like powdered cocoa right at the back of the palate that is exceptionally pleasing.
Finish
I had to taste this twice.  The first time through, I thought the finish was a little disappointing.  But the second time through, I tried not to compare this to the straight-from-the-barrel 1792 I'd tried a couple years ago, and instead taste it on its own merit.  I found that in that case, I didn't feel like it was a short finish, only that it was shorter than other barrel proof bourbons.  This is a good case for tasting bourbon blind.
The finish is average in length, and starts with the cocoa flavors, but that fades quickly into a spicy rye and cinnamon red hot sensation across the tongue.  I wouldn't say this is a particularly viscous mouthfeel, but it's not thin, so it's certainly not a major negative.
Synopsis
Again, If I had not come into this tasting expecting a straight-from-the-barrel experience, my first taste would have been much better.  Indeed, the "Full Proof" label probably tends to lead drinkers in the wrong direction with that, as it's really just "barreling proof," not "barrel proof," as most will likely assume by reading the label and not reading the back panel.
But taking a more objective approach, my overall impressions are very positive.  It's a tasty bourbon, and very different from most of the other high proof variations on the market.  And it does still leave room for Barton to eventually jump in with both feet and release a true unfiltered barrel proof variation perhaps as a gift-shop exclusive.  On its own merits, 1792 Full Proof is probably closer to what 1792 should have been from the start.  It is so approachable at 125 proof that it could easily be enjoyed as the flagship of the Barton lineup.  And it's packed with enough depth of flavor to shine.  If this can ever be found with regularity at its price point, it will find a way into my regular rotation.
ModernThirst.com Score: 91 out of 100 points.
Not without its flaws, this "full proof" bourbon packs enough flavor into an approachably shippable bourbon at a great price point to be an excellent purchase for those who land a bottle.