Media Sample
ModernThirst was provided a sample of this whiskey for review with no strings attached.  The opinions and ratings are our own.
What it is

From the press release:
This year's limited edition combines two extra-aged rye mashed bourbons – a stately 12-year and a bold 7-year – hand-selected and finished for several months in new toasted wine barrels. The result is a small batch legendary bourbon with a truly unique complexity and character.
"We used 28 new wine barrels with varying levels of toast – I was interested in how toasting versus charring would contribute to the bourbon," says Steve Beam, president and distiller of Limestone Branch Distillery. "The result was a delightful nose that is full of vanilla, sweet tea and summer fruit with a hint of smoke."
Bottled at 101 proof and available in 750ml bottles signed by Steve Beam and nestled in commemorative tubes, Yellowstone Limited Edition offers a taste profile of spiced oak, roasted coffee with creamy notes of vanilla, rich chocolate and fresh berries, and a smoky caramel finish. Approximately 7,000 bottles of this bourbon are being produced this fall at Limestone Branch Distillery, and the suggested retail price is $99.99.
Yellowstone Limited Edition 2016 Vital Stats
ABV: 50.5% (Proof: 101º)
Mash Bill: unknown (mixture of two rye recipe bourbons)
Barrel Entry Proof: unknown
Barrel Char Level: unknown
Secondary Aging: Toasted Wine Barrels
Age:7 Years
Producer: Limestone Branch (Sourced)
Price Paid: Media Sample ($99.99 MSRP)
Availability: Limited
Packaging
Tall, sloped bottle with dark label.  The bottles are packaged in commemorative tubes similar to the YellowStone Select packaging.  Very nice.
Appearance
Dark, golden amber.
Nose
Dark, juicy red fruits greet the nose with aromas of plums, grapes, and port.  There is plenty of pleasing vanilla and oak as well.
Palate

Immediately, the rye content is evident with a prickly black pepper spice on the rear palate.  But there are heavy notes of vanilla and maple syrup on the front palate that give way to the spice.  The mid palate gets a quick burst of herbal green tea, some mild cloves, and a hint of black cherry before the rye kicks in.
Finish
The rye continues to be the main exhibit, but at the tail end of this medium to long finish, the dark fruits and wine barrel finish make another appearance with plenty of toasted oak.
Synopsis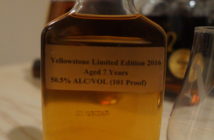 My initial impressions were positive with this sip, and that did not change throughout my tasting.  There is an extremely heavy note of black pepper rye throughout the entire sip.  It's almost too much, but the wine barrel finish helps tone it down to a manageable level.  Overall, I'm generally not a huge fan of wine barrel finished bourbons, but with the heavy rye, it was a necessity with this bourbon.  In the end, it works, and it works well. The result is a spicy/sweet bourbon with excellent creamy mouthfeel. Whether or not this justifies dropping a benjamin on a bottle is up to the consumer, but the product itself is a tasty little sip.
ModernThirst.com score: 89 out of 100 points.