Boone County Eighteen 33
Aged a year or two past its prime, and bottled at only 90.8 proof, this bourbon could have been excellent, but instead winds up in the middle of the pack of a host of MGP-sourced whiskeys.
What it is
Boone County Distilling Company opened its facility in Independence, KY and began distilling in October of 2015. They joined the Kentucky Distillers' Association at the end of that year.  Since then, the company has released a 120 proof white dog, a bourbon cream, and a bourbon- Eighteen 33, which pays homage to the year the first Boone County Distilling Company was founded (there is no relation between the original and this distillery save the name).
Eighteen 33 is a ten year old bourbon bottled at 90.8 proof.  If you're trying to work out the math, don't bother.  A ten year old whiskey from a less-than-two year old distillery doesn't work out. This is sourced, and it states Lawrenceburg, IN as the source on the label, which means this is MGP distillate.  To some, just mentioning MGP elicits groans.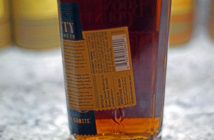 "Another MGP sourced bourbon?"
I hear you, and I get it. I really do. The problem with that reasoning, though, is one that is inescapable: MGP produces solid whiskey. If I'm sourcing a whiskey- rye in particular, but bourbon as well- they're probably the first place I call.
And this is ten years old. Outside of Smooth Ambler's Old Scout, there aren't a lot of those out there.
Boone County Eighteen 33 Vital Stats
ABV: 45.4% (Proof: 90.8º)
Mash Bill: unknown
Age: 10 years
Producer: Boone County Distilling Co.
Distilled by: MGP, Lawrenceburg, IN
Price Paid: $54
Availability: Available- at least in the Kentucky area
Packaging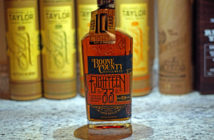 Eighteen 33 is packaged in a nicely shaped bottle with orange and black label. The scheme reminds me slightly of Bulleit, and it is corked, not a screw top, and that cork is topped with a nice wooden cap. It's a good looking bottle.
Appearance
Medium brown.
Nose
Some caramel along with lots of oak greet the nose. There are some underlying leather and earthy notes as well, though oak seems to be the featured aroma.
Taste
The tip of the tongue gets a healthy dose of caramel, but the center of the palate, from back to front, is then hit with a long, oily, not-altogether-unpleasant punch of oak, which again becomes the featured flavor.  The age is readily apparent. There are some notes of light vanilla on the periphery, along with hints of tobacco and leather as well.
Finish
Some rye spices pop up on the finish, along with some caramel notes, but everything plays second fiddle to the oak. This sip really displays the age of the whiskey. Water didn't help a ton, as it primarily just muted the non-oak flavors.  But the finish is medium in length.
Synopsis
T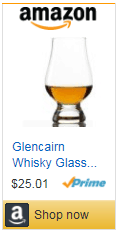 his isn't by any means a bad whiskey. However, it didn't seem to handle the extra years in the barrel as well as Old Scout tends to do. I think this would drink better at 100 proof or higher, as it needs a little more complexity of flavor to keep pace with the likes of Smooth Ambler. Conversely, I think this might have been a better sip at maybe 8 years as well. The oak seems to dominate, and the usual fruitiness I find in MGP distillate is missing here as a result. Still, if oak is your thing, you should like this. At $55, you'll have to weigh the cost, however.
ModernThirst.com Score: 86 out of 100 points.