[amazon_link asins='B00GFBCPDS,B00H143UXW' template='MT-product-carousel' store='modernthirstc-20′ marketplace='US' link_id='4fc1fb63-010f-11e8-9f06-eb84335bd074′]
INTRODUCTION
Today we are up to the third of our four planned reviews in the Lagavulin series.  After the Lagavulin 8-Year Old and 16-Year Old reviews, we now sit down with the Lagavulin Distillers Edition.  The annually released Distillers Edition is a variant of the Lagavulin 16-Year Old.  The Distillers Edition is double matured, which means that in addition to spending time in refill bourbon casks the whisky in this bottle spends time also maturing in Pedro Ximenez sherry casks.
DISTILLERY DESCRIPTION
For this installment, I thought it would be nice to share with you how the Lagavulin Distillery describes their product.  Taken from the box packaging: "Full-bodied Lagavulin is richly peated, smoky and intense on the palate.  Mightiest of the Islay malts in style, it has a salty edge of sea-spray.  To reveal the full depth and complexity of this Distillers Edition, our Master Distiller has hand-selected a small number of casks for double maturation in specially crafted Pedro Ximenez cask-wood.  Its accents of rich, sun-dried grape sweetness have been chosen to complement this spectacular single malt's rich complex style.  A limited release made usually once a year, the Distillers Edition enjoys both rarity and superior quality.  The packaging carries the symbol of Mackie & Son, who brought the distillery to fame.  Each bottle carries a batch number, which designates the selected casks specially crafted for double maturation.  This is an unforgettable, richly flavored malt whisky with intense layers of raisin sweetness and smoky flavor."
LAGAVULIN DISTILLERS EDITION (2015) VITAL STATS
Mash Bill:  100% malted barley dried over peat
Casks:  double matured – refill ex-bourbon oak casks and Pedro Ximenez sherry casks
Age:  16-years old
ABV:  43%  (86 proof)
Batch Number:  lgv.4/504 – distilled 1999 and bottled in 2015
Producer:  Lagavulin Distillery
Price:  $105-115
Availability:  Available
SCORING NOTES
Notes where Jeremy and I are in agreement will have no annotation – differences and slight variance are annotated by inclusion of our initials (WJ) or (JR).
APPEARANCE
darker amber, honey, orangish-red tint (can note the sherry cask influence)
NOSE
more rounded on the nose than the basic Lagavulin 16-Year Old; dark malt cereal (JR), sherry notes – dark fruits (WJ); seacoast – saltiness; the phenolic notes fade into the background – peat, smoke, and medicinal quality, not as strong; treacle molasses sweetness (WJ), band-aid (WJ), salted caramel (JR), wood (JR), instead of sitting by a bonfire on the shoreline, more like drinking by the fireplace (JR)
PALATE
slight sherry embracing the peat and smokiness – muting it somewhat (WJ), sherry, dark fruit is prevalent and mostly welcomed, at times it battles the peat and smokiness (JR), a faint sweetness peeks through at the end – dried prune maybe (WJ), not as much treacle sweetness as on the nose (WJ), a touch of spice, but not as much as the Lagavulin 16-Year Old (WJ), less spice, but more pepper (JR), most brine of the Lagavulin bunch and I like that (JR), chloraseptic is bold, almost tongue-numbing (JR)
FINISH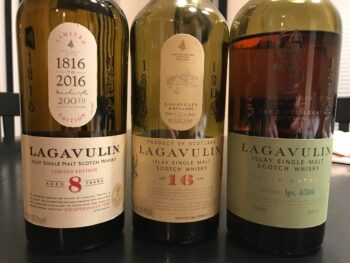 a bit thinner on the mouthfeel than anticipated, but decent medium-long finish with a smoky, peppery spice lingering (WJ); longer or at least bolder than the Lagavulin 16-Year Old (JR)
SYNOPSIS
LAGAVULIN DISTILLERS EDITION:  very close to the 16-year old Lagavulin in my opinion, with slight nuances giving the narrowest of edge to the Distillers Edition (WJ); the sherry and smoke battle without a winner determined, the overall taste and finish here bests the usual 16-year old offering, but I am not sure the additional price, however minimal, is warranted (JR)
ModernThirst.com Score:  92 (combined); 90 (WJ) and 94 (JR)
WRAP-UP
When we complete the last of the four Lagavulin reviews, in our next installment, we will provide a comparative recap.  Until next time, thanks for reading and please provide comments if you have them.  We leave you this fine day with the great words of Johnny Carson – "Happiness is having a rare steak, a bottle of whisky, and a dog to eat the rare steak."
Lagavulin Distillers Edition
A delicious pour of scotch that checks off all the boxes for an Islay drinker. A bit of smoke, pleasant sweetness, and a touch of spice. If you like peated whiskies, you cannot go wrong in having a bottle of either the Lagavulin Distillers Edition or the Lagavulin 16-Year Old on the shelf at all times.