Lagavulin 16-Year Old Islay Scotch
A standard for peated whiskies: big, bold, assertive - very balanced and full.
[amazon_link asins='B00GFBCPDS,B00H143UXW' template='MT-product-carousel' store='modernthirstc-20′ marketplace='US' link_id='75bc1e3f-010f-11e8-a754-331df426d35a']
INTRODUCTION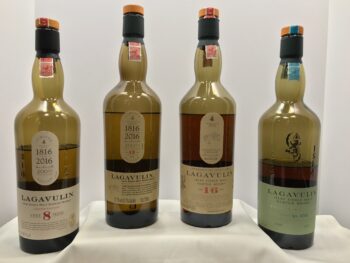 A couple weeks ago in our first new World Whiskies review we talked about Lagavulin 8-Year Old.  For the next installment, today we sit down with the classic Lagavulin 16-Year Old Islay Single Malt Whisky.  Over the next few weeks we will wrap-up the four primary bottles from the Lagavulin line-up and then sit down with some other peated whiskies from Scotland.  Before diving into the review a little recap is in order on this new feature at ModernThirst.com.  My name is Wes Jolly and I'm drawn to all styles of whiskies.  My friend, Jeremy Reed, and I are founding members of the Proper Pour Whisk(e)y Club in Colorado Springs, CO.  In the past three years our tasting group has tasted and scored over 130 various whiskies — American, Canadian, Scotch, Irish, Taiwanese, Indian, and Japanese.  Our goal is to provide frequent reviews for ModernThirst.com on a variety of whiskies from some distant shores.  Jeremy and I plan to give you a combined perspective on the pours before us.  We will not always view the whisk(e)y from the same perspective – every one of our taste buds and senses of smell vary and some whiskies fit our personal taste profiles differently.  We will guarantee you, however, that you will get our honest opinion on each tasting, and where we differ, we will make it known.  You will see our individual thoughts and scores for each tasting and a combined rating.  Lagavulin 16-Year Old awaits.
BACKGROUND
The Lagavulin Distillery sits on the southern end of Islay between the Laphroaig and Ardbeg distilleries.  It just celebrated its 200th year anniversary in 2016.  The island has a little over 3,000 inhabitants and the eight distilleries on Islay account for the second highest proportion of employment after agriculture.  The name Lagavulin is derived from the Gaelic lag a'mhuilinn (meaning "hollow of the mill").

Lagavulin 16-Year Old Islay Scotch Vital Stats
SCORING NOTES
Notes where Jeremy and I are in agreement will have no annotation – differences and slight variance are annotated by inclusion of our initials (WJ) or (JR).
APPEARANCE
bright amber, honey, with a slight orangish tint
NOSE
can definitely pick out that this is older – more complex as compared to the 8-year old reviewed last time; phenolics come forward – peat, smoke, slight tar note, medicinal quality; chloraseptic note (JR); sweet tobacco (WJ), dried dark fruits (WJ), iodine (JR), band-aid (JR), black tea (JR), old leather (JR)
PALATE
a peaty smokiness with a touch of spice/pepper note, slight tar note, a touch of salty dark chocolate (WJ), taste mirrors the aroma (JR), seaweed (JR), chloraseptic – medicinal (JR), black tea (JR), not as much sweetness as the 8-year old Lagavulin (WJ), youthful cereal sweetness of 8-year old Lagavulin is almost completely gone replaced by a richer, toasted malt (JR)
FINISH
nice mouthfeel, lingering smoke, not as long as expected (WJ); not as long or as big as I would like, but lingering and very pleasant with smoke and chloraseptic notes ruling the day (JR)
SYNOPSIS
LAGAVULIN 16-YEAR OLD:  a standard for peated whiskies – Nick Offerman can sit by a fireplace for 45-minutes in the Lagavulin ad savoring a nice dram of this whisky, and I can see why (WJ); an outstanding pairing with raw oysters – the salinity and smokiness make for a delicious marriage of flavors (WJ); big, bold, assertive – very balanced and full (JR)
ModernThirst.com Score:  91.5 (combined); 90 (WJ) and 93 (JR)
WRAP-UP
When we have completed our four Lagavulin reviews we will provide a comparative recap.  Until next time, thanks for reading and please provide comments if you have them.  We leave you this fine day with the great words of Winston Churchill – "The water was not fit to drink. To make it palatable, we had to add whisky. By diligent effort, I learned to like it."