What it is
James E. Pepper is certainly not a new name in the whiskey biz.  The label traces its roots back to 1780, when Elijah Pepper began distilling Culpepper, VA.  In 1790, he moved west to Versailles, KY (near Lexington) and built a new distillery on Glen's Creek.  Today, that building houses the Woodford Reserve distillery.  By the time the Pepper family sold the distillery to investors in 1906, the name was well established in the American Whiskey industry.  In 1879, James E. Pepper moved to a new Distillery in Lexington, KY.  The brand survived Prohibition, being one of only a handful of distilleries allowed to be sold for "medicinal" purposes. By 1958, the bourbon market in the United States virtually dies off, and the distillery closed.
In 2008, the name was revived by an investor.  The current iteration of James E. Pepper, therefore, has no connection to the original, aside from the name.  So what does that have to do with the history lesson above?  Not a thing.  Feel free to forget every word of it.
The current label is constructing a craft distillery in Lexington, KY.  Until that's complete, this is a sourced whiskey.  A quick check of the back label reveals the source: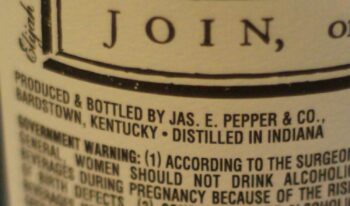 The key phrase there is "Distilled in Indiana."  That should scream MGP to anyone who has been reading this site for more than a few days.  This is a 90% rye mash bill from MGP…not an altogether uncommon distillate, but that's not a knock. If anything. MGP makes some of the best tasting rye whiskey in the country, so a well-aged or well-presented expression of that is always welcome.  While this is a very affordable whiskey at $37, it's also clearly very young, likely between 2 and 3 years old.
James E. Pepper 1776 Barrel Proof Rye Vital Stats
ABV: 57.3% (Proof: 114.6º)
Mash Bill: 90+% Rye
Age: 2+ years
Producer: James E. Pepper
Distilled by: MGP, Lawrenceburg, IN
Price Paid: $37
Availability: Available
Packaging
Nice, dark bottles with attractive red foil and cream labels.  The design makes several references, directly or indirectly, to the era of Independence (1776) and thereabouts.  The Foil covers a synthetic cork.  It's nice.
Appearance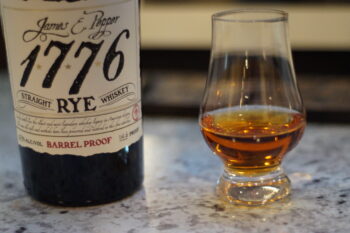 This is a barrel proof, non-chill filtered whiskey, but at a very young age, it's still not very dark.
Aroma
There is a definite hint of spearmint, followed by a citrus sweet note that is common to MGP ryes.  There isn't a ton of ethanol on the nose, as might be expected from a 114+ proof whiskey.
Taste
There is a quick black pepper bite on the front of the tongue, but it settles into a citrus and sweet candied peaches on the mid palate.  The rear of the palate returns to a very slight hint of oak and lots of characteristic rye spice.
Finish
Medium in length, the black pepper continues throughout the finish with a return of mint and a touch of orange zest.  The mouth feel on this is a bit thin, owing to the lack of age, but it's by no means distasteful.
Synopsis
I like this whiskey, particularly for the price, and kudos to the JEP company for offering something at barrel proof the average consumer doesn't need to sell a kidney to own these days (I'm looking at you, Booker's).  And The lack of chill-filtering allows this distillate to keep a built more flavor than another 2 year product might offer. It's young, however, so this isn't going to reach the levels of some of the wonderful barrel proof MGP rye whiskeys released by Smooth Ambler over the years.  It's clearly no more than 3 years old, so keep in mind you're not getting a nicely aged, complex whiskey here.  You're paying for powerful, straightforward rye flavors.  It delivers that.
ModernThirst.com Score: 87 out of 100 points.
1776 Barrel Proof Rye
This bottle doesn't pull any punches, and it doesn't price itself above the sum of its ingredients, as so many sourced products have done of late. It's straight forward and not overly complex, but it's got powerful rye flavor to spare.