March 14th was a big day for Tom Bulleit. The founder of Bulleit bourbon celebrated three milestones yesterday- his birthday, his 30th wedding anniversary, and the ribbon cutting of the brand new $115 Million distillery bearing his name in Shelbyville, KY. To make it a superfecta, 2017 marks the 30th anniversary of the brand's founding as well.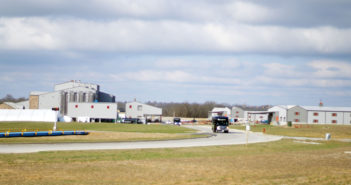 The facility stands on 300 picturesque acres in Shelby County, KY, only about 30 minutes from Louisville. It boasts a 52 foot Vendomme copper still capable of producing 1.8 million proof-gallons of distillate per year, and currently has four warehouses with 55,000 barrel capacities, and two more planned. The distillery is "modular" in design, capable of expansion. Bulleit has already decided to move forward with expanding production capacity. Though several distilleries have opened in recent years, this marks one of the largest new facilities on the Bourbon Trail, and will initially support Bulleit Bourbon only, while the rye will continue to be sourced for the time being. Bulleit sold more than 1,000,000 cases of whiskey for the first time in 2016.
The ribbon cutting ceremony was performed by Kentucky Governor Matt Bevin, Tom Bulleit, and Diageo North America President Deidre Mahlan.
Inside the distillery, it is clear this is a state of the art facility, with computers controlling the bulk of the processes with oversight from highly trained and highly involved workers. There will initially not be a visitors' center at the distillery, but the Bulleit Experience at Stitzel-Weller does house guests, and the company hopes to add tours and visitor facilities once they can negotiate through red tape with county officials (Shelby County does not allow alcohol sales by the drink, so they would not be allowed to offer samples on the tour).
Click here to read ModernThirst's reviews of Bulleit whiskeys.
Check out some of the sights at the brand new Bulleit Distillery: