Blanton's Straight from the Barrel Vital Stats
Type: Bourbon Whiskey
Recipe: Corn – Rye – Malted Barley
Mash Type: Sour
Still Proof: 70% Alcohol by Volume – 140 proof
Entry Proof: 62.5% Alcohol by Volume – 125 proof
Warehouse: H
Floor: 7
Barrel Type: White Oak
Barrel Maker: Independent Stave
Staves: 6 month air dry
Treatment: #4 Char
Filtration: Non-Chill Filtered
Bottle Proof: 130.9º (65.45% ABV)
Barrel #928
Color: Deep Dark Amber
Availability: Only offered in international markets and duty-free shops
What it is
If you're familiar with bourbon, you almost certainly are aware of Blanton's.  Blanton's is a single barrel bourbon from Buffalo Trace's Mash Bill #2, bottled at 93 proof and has long been held as an industry standard among premium bourbons. If you're still not sure, it's the one with the horse and jockey on top of it.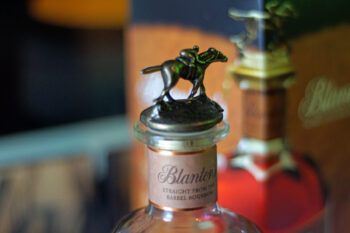 You may not be aware that though Buffalo Trace make and bottles Blanton's, they don't technically own the label- nor do they own any of the labels of their "mash Bill #2" bourbons. They are owned by a company called 'Age International.' That's important to note because Age International, while organized is the U.S. is really a foreign entity. So a great focus of the Age International distribution is overseas, and not in the U.S.
Therefore, while there is but one 'Blanton's' available in the United States, there are actually at least three other versions of it available only overseas and in duty free shops. Blanton's 'Straight from the Barrel'  (or SFTB, as you may read online) is the most recognizable to bourbon fanatics and thus is often the most sought-after.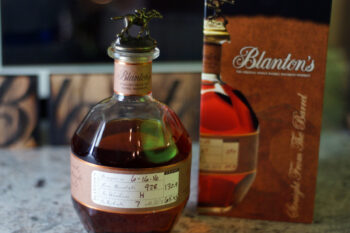 So if it's not sold in the United States, how do you get it?  Well, that's the tricky part.  The next time you or a friend travel overseas, check out whiskey shops for it. Search duty-free stores in international airport terminals. Have a friend overseas send it to you. Check it in your bag. Find an online whiskey retailer who will ship it. Just remember you are responsible for applicable taxes, shipping, etc. And just remember that carrying or shipping a glass bottle of whiskey with a cork in it overseas is a risky proposition at any level. If you have it shipped here, these will run anywhere from about $100 to $150 depending on exchange rates and actual shipping costs and VAT. Oh yeah- they're 700ml bottles, too.
Packaging
As mentioned before, this is a 700ml bottle, so it's slightly smaller than a standard Blanton's bottle, but maintains the same overall shape and theme, including the horse and jockey cork topper.  The specifics of each barrel, since this is a single barrel whiskey, are handwritten on the label.
Appearance

Deep amber.
Nose
There is a strong note of oak on the first pass, but the high ABV peeks through quickly with a hint of ethanol. The rye is plainly evident as well, as there is a note of black pepper that singes the nose. I get hints of caramel corn and deep vanilla as well.  It's Definitely Blanton's.
Palate
The first thing I noticed was the rye that carried through from the nose. Typically, I get rye on the back of the tongue in the form of black pepper and citrus peel.  This time, it's front and center.  But pie crust and honey peek through on the mid palate with a dose of vanilla.  The rear palate gets a blast of oak and more rye.
Finish
The rye again is the main component with hints of that caramel corn and oak.  The mouth feel is rounded out with lush dark fruits and sweet honey.  Overall, however, this is a dry sip.  the finish doesn't linger, and it's very clean on the palate, which i Find to be a bit of a hallmark with Buffalo Trace's rye-based bourbons.
Synopsis
At 130 proof, I had to try a splash of water, even though I don't think it's needed here.  This drinks pleasantly on its own, with the high proof being mainly evident on the nose rather than on the palate.  The water doesn't do much to hurt this, though I didn't feel it brought out a ton of new aromas to flavors.  So I'd recommend sipping it neat.
Ultimately, this is Blanton's…on steroids.  But that doesn't mean fans of standard Blanton's will like this. Where the regular single barrel is delicate and refined, this one is bold and in-your-face.  I like it…a lot…mainly because I love big, bold bourbons with great balance.  If soft and delicate is your preference, you might not want to go through the hassle of getting your hands on one of these.  Instead, you might try the 103 proof Blanton's Gold or the 80 proof Blanton's Special Reserve that are also only sold overseas and in duty free. If you like your bourbon big and powerful, give this a try.
ModernThirst.com score: 90 out of 100 points.
Blanton's SFTB
It's big, it's bold, it's tasty. This is Blanton's on steroids. While some long-time Blanton's lovers might not like it due to its bold and assertive profile compared the standard offering's more delicate approach, this is a really nice sip.