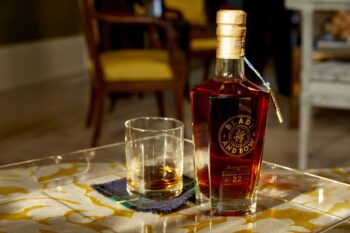 You may remember our posts from a couple of years ago about Blade & Bow's limited edition 22 year old bourbon.  Well it's back.  Diageo has announced a re-release.  We know from the Orphan Barrel lineup that Diageo seems to have an inexhaustible supply of hyper aged bourbons, and while 20+ year old bourbons usually taste vastly over aged to my palate,  the previous release was actually pretty tasty, so I'm looking forward to this one.  The provenance of this whiskey is a little clearer this time around as well.  It's a mixture of distillate from the "New" Bernheim distillery (now Heaven Hill) and what is now Buffalo Trace.  So it seems to be from similar stocks used for Lost Prophet mixed with the bulk of the Diageo releases (15 year Harper, most of the Orphan Barrels, etc).

From Diageo
Background 
Blade and Bow 22-Year-Old Kentucky Straight 
Bourbon Whiskey is a limited release whiskey that pays homage to 
the artful passion and renowned craftsmanship of the legendary 
Stitzel-Weller Distillery. This whiskey is the latest to be released from 
Stitzel-Weller, the historic distillery that now serves as the home to a 
number of high-quality whiskeys.
Brand Inspiration 
Blade and Bow is named after the 
two parts of a skeleton key – the blade shaft and the ornate bow 
handle – part of the iconic Five Keys symbol found throughout the 
legendary Stitzel-Weller distillery.  These keys represented the five 
steps of crafting bourbon – grains, yeast, fermentation, distillation 
and aging.  More importantly, these keys grew to symbolize the 
southern traditions of hospitality, warmth and enjoying the finer
things in life.  To this day, the five keys can be found throughout 
the distillery.
Packaging 
Blade and Bow Limited Release 22-Year-Old 
Kentucky Straight Bourbon Whiskey is packaged in a geometric 
bottle with six sides – one bearing the Blade and Bow logo and 
product information, with the other five representing each of the 
five keys to bourbon found throughout the Stitzel-Weller distillery.
Five different keys – some rarer than others – will adorn the bottles,
with consumers being encouraged to collect all five.
Liquid Story
Inclusive of whiskeys distilled at both the distillery 
historically located at 17th and Breckinridge in Louisville, Ky. and the 
distillery historically located at 1001 Wilkinson Blvd. in Frankfort, Ky.,
this limited release offering was most recently aged and bottled at 
Stitzel-Weller.
Tasting Notes
Beginning with a pronounced nose reminiscent 
of toasted oak layered with vanilla bean, figs, and a light touch 
of dark caramel, Blade and Bow 22-Year-Old Kentucky Straight 
Bourbon Whiskey tastes smooth and smoky with good oak 
structure, accented with notes of torched sugar, sweet vanilla bean 
and a spicy dry rye finish.
Awards
2015 San Francisco Spirits Competition 

Best Kentucky Straight Bourbon

2015 San Francisco Spirits Competition 

Double Gold 

2016 Ultimate Spirits Challenge 

99 Score 

2016 Ultimate Spirits Challenge 

Chairman's Trophy

2017 Jim Murray's Whisky Bible: 

Blade and Bow 22-Year-Old: 

Best Bourbon 10 Years & Over from Multiple Barrels