Ezra Brooks Straight Rye
It's hard to really lay into a whiskey that retails for only about $20, but at 2 years old, this whiskey is sadly under aged, and thus suffers from a heavy ethanol/alcohol theme that doesn't do it any favors.
[amazon_link asins='B016YPDI3A,B005GV2HO0′ template='MT-product-carousel' store='modernthirstc-20′ marketplace='US' link_id='5a0fa9fe-df46-11e7-b232-8bf8d0489f55′]
What it is
Ezra Brooks Straight Rye is a 2 year old straight rye whiskey distilled by MGP in Indiana using their popular 95/5 mash bill (95% rye, 5% malted Barley).  It is bottled at 90 proof.  It is non-chill filtered and has a retail price of around $20.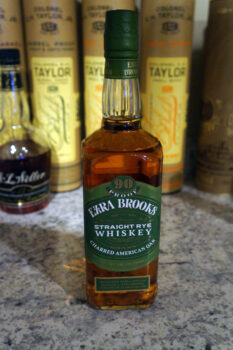 I was very happy to read of the release of this whiskey, as I'm a big fan of the MGP rye distillate, and I've developed a bit of a soft spot for Ezra Brooks since I've discovered their 7 year 101 proof bourbon and the now-discontinued 10 year single barrel.  The label is owned by Luxco, who is also responsible for Rebel Yell, David Nicholson, and a few other whiskey lines.  They also own a 50% stake in Limestone Branch Distillery, which will come into play in the upcoming review of Minor Case Rye Whiskey.
Ezra Brooks Straight Rye Vital Stats
Type: Straight Rye Whiskey
Recipe: 95% Rye, 5% Malted Barley
Distiller: MGP
Bottler: Luxco
Age: 2 Years
Price : $20
Bottle Proof: 90º (45% ABV)
Availability: Available.  National Distribution.
Packaging
Similar to the bourbon releases, Ezra Brooks rye is in the same squared traditional bottles with an attractive green label and screw top.
Appearance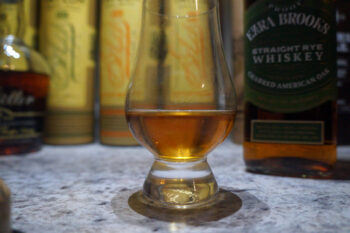 Light straw
Nose
Peppery rye with a healthy does of ethanol hit the sinuses quickly, but a floral-like note of roses and sweet caramel underlie it.
Taste
Strangely, there is a grainy quality to this on the palate that I wouldn't expect from a mash bill of only 5% malted barley.  It reminds me of soft wheat bread.  Nevertheless, the standard MGP notes of sweet citrus, lemon zest, and orange peel are present, though they are mostly overpowered by the youth of the whiskey that is rife with strong alcohol and ethanol sensations.
Finish
Medium in length, this is a very light mouth feel, likely due to the rye and youth of the whiskey.  Unfortunately, the length of the finish is largely due to the strong current of alcohol and youth, which isn't exactly pleasant.
Synopsis
I really wanted to love this.  I love the mash bill, love the price, like the packaging, and like that it's attainable.  But it's too young.  There's absolutely no substitute for proper aging.  And tasting this at 2 years tells me this needed another year or so in the barrel.  We've seen with multiple other offerings of MGP distillate that the whiskey begins to shine around 3-4 years old, and continuing to improve through about 10 years.  This one misses that range by quite a lot.
I don't know if Luxco plans to eventually extend the aging of this product out another year or more, but if they do, expect the price to reach upwards of $23-30, but the end product being far superior.
ModernThirst.com score: 81 out of 100 points.
*A sample of this whiskey was provided to ModernThirst by the producer with no strings attached. The opinions in this review are our own.