Elijah Craig Barrel Proof 124.2°
The relatively lower ABV on this barrel-proof format of the stalwart Elijah Craig works wonderfully. The highlights include the fantastic nose and pleasing finish.
[amazon_link asins='B00MV7DOG2,B00H143UXW' template='ProductCarousel' store='modernthirstc-20′ marketplace='US' link_id='8c5b9f4d-97bc-11e7-9b1c-a75dd427f493′]
What it is
Very simply, it's good ole' Elijah Craig 12 year old small batch bourbon bottled at the proof it was meant to be bottled at: barrel proof. That's not to say standard Elijah Craig is lacking in flavor, it's actually a very good bourbon. But give me a good bourbon strong as the day it was born, without being overly filtered or watered down to proof, and you've made me a very happy man.  We've reviewed two releases of Elijah Craig Barrel proof before, and you can see those ratings here.  While the standard Elijah Craig has lost its age statement, the barrel proof, thankfully, remains a stout 12 years old.
You can see all the Elijah Craig Barrel proof Releases by batch, proof, and release date here.

Elijah Craig Barrel Proof B517 124.2° Stats
•Producer: Heaven Hill Distilleries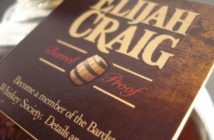 •62.1% ABV (124.2 Proof)
•Mash Bill: 78% Corn, 10% Rye, 12% Malted Barley
•Barrel Char Level: #3
•Age: 12 Years
•Availability: Limited Release
•Price Paid: Media Sample.  Retails for between $60 and $75.
Packaging
This is the second batch of barrel proof Elijah Craig to use the new bottle format that became the norm near the end of 2016.  The photos below show the new bottle on the left with the previous packaging on the right:
Appearance
Deep, dark brown and amber
Nose
This is the first Elijah Craig variant, and one of the first Heaven Hill offerings I've sampled that shows a note of ripe bananas on the nose.  In fact, it's incredibly pronounced.  Beneath that is sweet simple syrup with caramel and oak.
Taste
This batch hits the palate with warm cinnamon and gingerbread, but follows up with vanilla, oak, and a strong rye kick.
Finish
As previous batches have proven, the barrel proof versions of Elijah Craig maintain a long, satisfying finish with definite black pepper rye spices and oak tannins from the barrel.  This is no different.
Synopsis
At 124.2 proof, this is lowest proof release of ECBP to date.  It's also perhaps the best.  The nose is simply fantastic with the sweet bananas fading into simple syrup and caramel, and the finish is perfect for this release.   I wish the banana scents had carried through a touch more to the palate, but it's still an excellent sip.  The lower proof has done wonders to take this from a bit of an untamable beast to a subtle and viscous sip.
ModernThirst.com Score: 92 out of 100