Press Release:
Blood Oath® Pact No. 3, the third chapter in the limited release, ultra-premium bourbon series, launched this spring to rave reviews. Pact No. 3 offers the most unique expression yet, with a masterful union of three rye bourbons ranging in age from seven to 12 years. To add an extra layer of complexity, one of the bourbons was finished in cabernet sauvignon barrels straight from Napa Valley's Swanson Vineyards.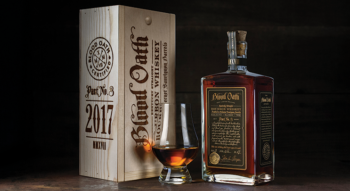 "These bourbons came together for a spicy, yet incredibly smooth flavor profile. By finishing some of the bourbon in cabernet sauvignon barrels, I was able to drive more character and depth into the bourbon," says John Rempe, creator of Blood Oath. "Not only will you taste the spiciness of the rye along with the sweet notes from the wine barrels, but you'll also taste strong caramel and chocolate overtones, giving it a velvety, well-balanced finish."
To celebrate the launch, key accounts and distributors in California joined John and the winemaker from Swanson, Robin Akhurst, for an exclusive wine tasting and dinner in Napa Valley. The two led a discussion on bourbon and the craft of winemaking.
Blood Oath Pact No. 3 is available in limited quantities nationally where only 10,000 cases of this bourbon will be released. As always, this particular expression will never be made again.
"This is the first time we are using all rye bourbons for Blood Oath, and the result was spectacular," says John. "I'm really proud of how this bourbon came together and of the flavor profile we were able to achieve."