Rhetoric 23
Though this is the best of the Rhetoric Lineup so far, it still suffers from serving far too many years in a barrel. For those looking for oak bombs, this one backs that up with a lot of caramel sweetness and earthy notes.
The 10th release in the Orphan Barrel series, Rhetoric 23 year follows the formula of the first 3 Rhetoric releases (20 Year through 22 Year)- it's the same distillate aged one more year.  The company says the lineup serves as a sort of "laboratory" of tasting, allowing buyers to collect the set and taste the difference between batches that comes from an extra year of age between each release.
This was distilled between 1990 and 1993 at the Bernheim Distillery (now owned by Heaven Hill) in Louisville, then owned by United Distillers.  It was aged at Stitzel-Weller in Louisville.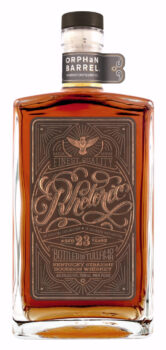 Rhetoric 23 Year Stats
◾Mash Bill:86% Corn, 8% Barley, 6% Rye
◾ABV: 45.3% (Proof: 90.6º)
◾Age: 23 Years
◾Producer: Orphan Barrel (Diageo)
◾Price: $120.00 MSRP
◾Availability: Rhetoric offerings are limited release in that the 23 year will only be released this year.  But they generally are available on shelves throughout the year.
Appearance
Relatively dark, which is to be expected due to its age, R23 is medium-brown in appearance, but lacks the complete depth of color you might expect from a 23 year old bourbon.  I believe this is chill-filtered.  As a 90.6º bourbon, this isn't high ABV.
Nose
There are tons of sweet caramel notes on the nose, followed by earthy leather and coffee tones, which give way to aged oak.
Taste
A very nutty flavor strikes the palate  with hints of cashews and walnuts.  This is the sweetest of the rhetoric offerings by a wide margin, as caramel and burnt brown sugar round out the tongue, and heavy oak dominates the rear palate.
Finish
The sweetness gives way to coffee and dark chocolate, which are summarily pummeled out of existence by extreme oak and barrel flavors, the result of 23 years in the barrel.
[amazon_link asins='B00H143UXW,B01BI8DYPU,B016YPDI3A' template='ProductCarousel' store='modernthirstc-20′ marketplace='US' link_id='a0ca01cf-7f94-11e7-9109-3f9024eba076′]
Synopsis
The Orphan Barrel series has not been my favorite, but Rhetoric has been a nice bridge between the woody mess that was Old Blowhard and the thin, underwhelming Barterhouse.  Rhetoric 20 year was perhaps the best of the original releases, with the 21 and 22 being one dimensional overaged bottlings.  The 23 year rounds back into form by returning a sweetness not found in the other offerings, but suffering from the same issue of spending far too many years in the barrel.  Let me put it plainly: this is way over-oaked, like most of the Orphan Barrel Series have been.  But this one, unlike the past two releases, has some redeeming qualities that might make it worth a sample if finding older bourbons is difficult or out of your price range, or oak bombs are your thing. It's the best of the Rhetoric series so far.  However,  I lament that all these bourbons, distilled by the legendary Ed Foote, were never released when they were in their prime, and as a result, we only get the tail end of its life cycle, when its best qualities are overshadowed by the fact that it languished in a warehouse owned by a company not really playing in the bourbon market at the time when this stuff could have been gold. At 12-15 years old, this might have been outstanding.  As it is, there is still enough here to warrant a taste.
ModernThirst.com Score: 87 out of 100 points.
*Diageo provided a sample of Rhetoric 23 Year to ModernThirst for review with no strings attached.  The thoughts and opinions expressed in this review are our own.